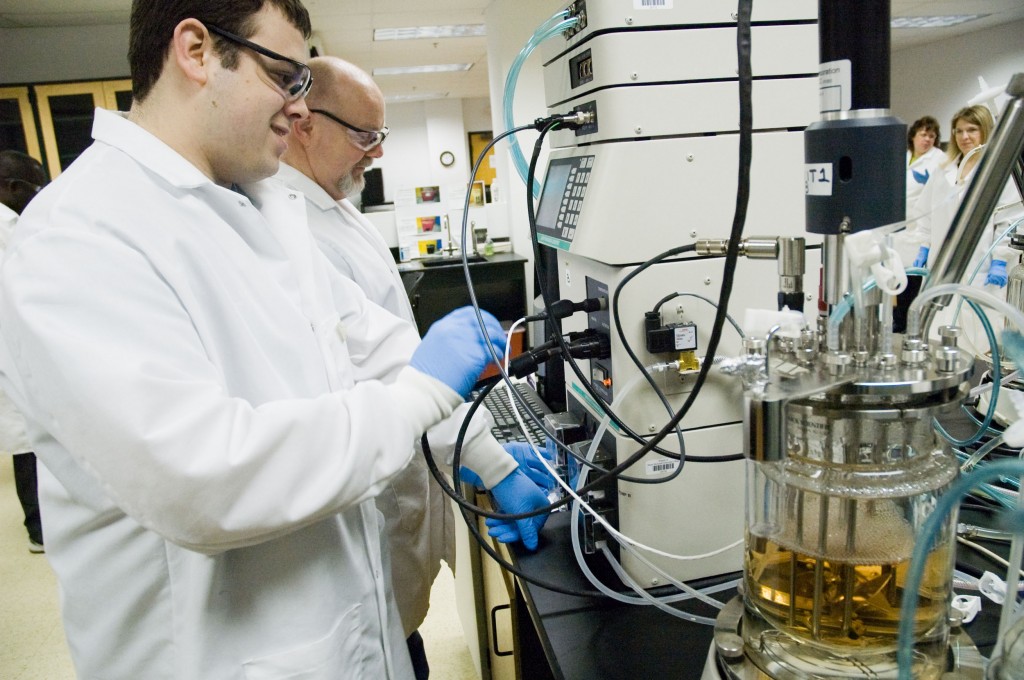 Mount Wachusett Community College's Biotechnology/ Biomanufacturing degree and certificate programs have received a gold endorsement from the Massachusetts Life Sciences Education Consortium (MLSEC). The MLSEC is an initiative convened by MassBio and the MassBioEd Foundation to facilitate partnerships between the life sciences industry and higher education in order to more effectively match graduating students with the jobs companies are seeking to fill.
The MLSEC celebrated the successes of 17 degree and certificate programs at 10 community colleges and other educational institutions during a Dec. 2 ceremony in Lexington. Guest speakers included David Cedrone, Associate Commissioner for Economic and Workforce Development and STEM and Executive Director of the STEM Advisory Council at the Massachusetts Department of Higher Education; and Matt Sigelman, Chief Executive Officer of Burning Glass Technologies.
Dr. Melissa Fama, Vice President of Academic Affairs, Dean Janice Barney and Professor Lara Dowland, chair of MWCC's biotechnology department, joined educators and stakeholders in the life sciences industry at the event, which recognized the programs' accomplishments and explored how the institutions and industry can continue to work together to cultivate and support the next generation of the life sciences workforce.
"One of our main objectives at MWCC is to ensure that all of our STEM students receive relevant, practical training and are immediately suited to fill in-demand careers," said President Daniel M. Asquino. "Receiving a gold endorsement from the MLSEC reinforces our belief in this educational approach and our desire to provide continued pathways for careers in biotechnology, biomanufacturing and other STEM fields."
"These endorsements ensure that community college biotechnology students and biotechnology certificate earners are provided with the information and experience they need to be successful candidates for careers in the life sciences industry," said Lance Hartford, Executive Director of the MassBioEd Foundation. "Designing educational programs off of the competencies that life sciences companies require from employees ensures that students receive skills relevant and applicable to the research and manufacturing jobs available."
"The Massachusetts life sciences industry depends on highly trained workers at every stage of the drug development and manufacturing process," said Robert K. Coughlin, President & CEO of MassBio. "By producing graduates ready to join industry, these endorsed programs are helping fill the pipeline of industry workers to ensure that our life sciences supercluster can continue to grow and get therapies to patients around the world."
Each educational program was evaluated based on program overview and scope of services, demonstration of laboratory practices, lab techniques and competencies. Also evaluated were workforce pathway development including its utilization of an advisory board, career services offered, and opportunities for work simulations and internships.