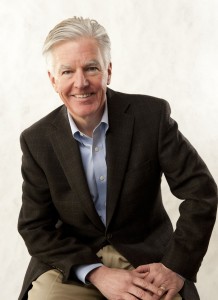 Marty Meehan, Chancellor of University of Massachusetts Lowell and former seven-term Congressman, will deliver the keynote address during Mount Wachusett Community College's Commencement on Wednesday, May 21.
"We are delighted to welcome Chancellor Marty Meehan to our campus as this year's Commencement speaker," said MWCC President Daniel M. Asquino. "His passion for community engagement was ignited while he was a Massachusetts public higher education student, and he brought that commitment to the state, national and campus levels. These same values of civic engagement are instilled in a Mount Wachusett education. Given his accomplishments in law, government, politics and higher education, Marty Meehan represents to our graduates a model of engagement at every level," he said.
"I look forward to speaking to the members of the Class of 2014 about how a high-quality, public higher education positions them for success in life," Chancellor Meehan said. "I encourage them to continue along the path of lifelong learning by pursuing bachelor's master's and doctoral degrees at UMass Lowell or other institutions of higher education. I know their studies at Mount Wachusett Community College have prepared them well."
Chancellor Meehan represented the 5th Congressional District of Massachusetts in the U.S. House of Representatives from 1993 to 2007, where he served on the House Armed Services and Judiciary committees. Widely respected as a reformer, he established a national reputation for his legislative leadership in transforming campaign finance laws and protecting people against the health risks of tobacco use. Previously, he served as Massachusetts deputy secretary of state for securities and corporations, and he was the first assistant district attorney of Middlesex County.
Since his appointment in 2007 at UMass Lowell, he has propelled the university to achieve record growth in enrollment, student retention and fundraising for research and scholarships. In addition, he has initiated a physical campus transformation that includes new academic buildings and residence halls and upgraded student services facilities. While strongly focusing on academics and student success, Chancellor Meehan has made access, affordability and diversity a keystone of his vision to raise UMass Lowell's image and impact on the region.
He graduated cum laude from UMass Lowell in 1978 with a degree in education and political science. He earned a master's degree in public administration from Suffolk University in 1981 and a juris doctor from Suffolk University Law School in 1986. He holds honorary degrees from Suffolk University, Green Mountain College in Vermont and Shenkar College of Engineering & Design in Israel.