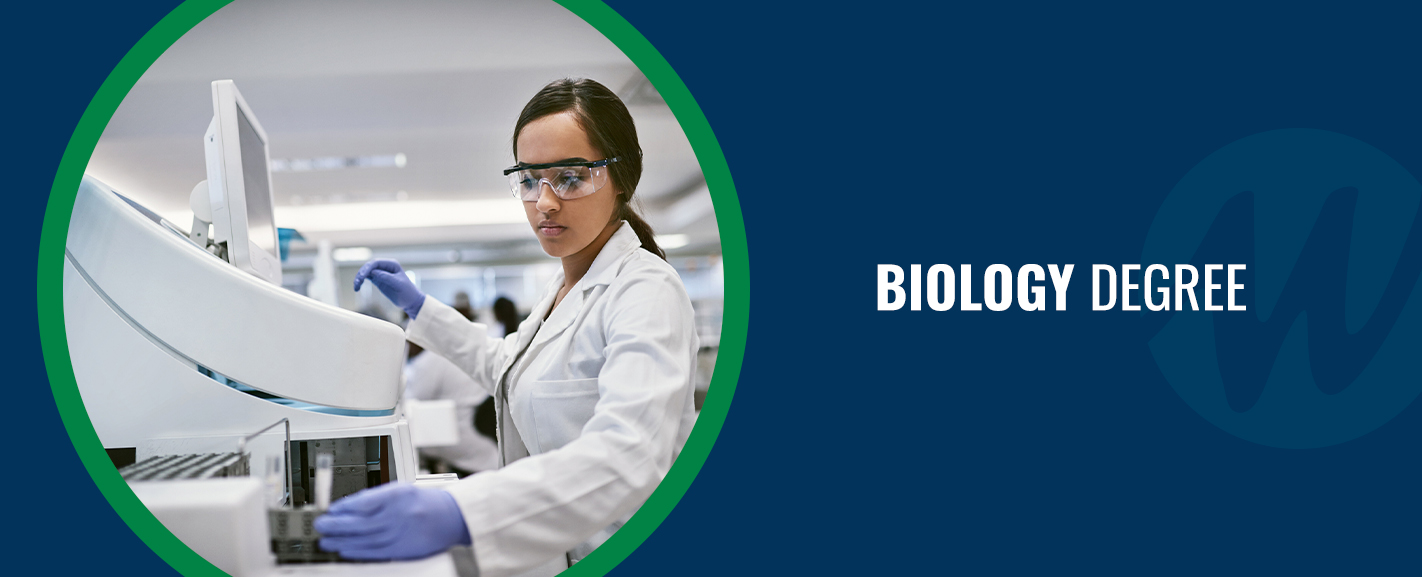 Biology is the study of living things and the science behind living organisms. Introductory biology courses focus on topics such as gene theory, homeostasis, molecular biology and cell theory, evolution and physiology and adaptation. After students complete introductory courses, they can specialize in various areas of study such as environmental biology, computational biology, biophysics, anatomy, evolution and ecology, cell and molecular biology, microbiology and zoology.
Different types of biology degrees can open various opportunities for students. The types of biology degree jobs students can pursue depend on whether they earn an associate, bachelor's, master's or doctorate degree. These degrees build upon one another, but the first step is an associate degree.
Earn an Associate in Biology Degree at MWCC
Thinking of pre-med, pre-dental, or pre-vet? Majoring in the powerful science of biology at Mount Wachusett Community College prepares you for careers in fields like medical, dental, veterinary medicine, biomedical engineering, ecology, forensic science, genetic counseling, and many more.

What Can You Do With a Biology Degree?
Pursuing a biology degree will teach you skills to think critically, perform research, solve problems and study the natural world. With an associate degree in biology, students can move on to prepare for entry-level careers as assistants or technicians. Specifically, they can pursue jobs as clinical research assistants, veterinarian technicians, laboratory assistants, medical assistants and medical and pharmaceutical sales representatives. An associate degree usually takes about two years to complete, and it can lead to excellent careers in biology.
When you earn an associate degree at MWCC, you can move on to a 4-year college or university that offers either a bachelor of arts (BA) in biology or a bachelor of science (BS) in biology. A bachelor of science in biology focuses on research and is great for students planning to enter the medical career field. A bachelor of arts in biology focuses more on the liberal arts than on mathematics or laboratory practices.
Some students further their education past a bachelor's degree and earn a master's degree. With a master's degree, students can advance their careers in teaching, wildlife biology and agricultural science.
When students earn a doctorate degree, they can further their careers even more. Students in a doctoral program choose a subset of the biology field to focus on. These subsets include molecular biology, neurobiology and ecology. Students can become laboratory directors and managers, college professors and science researchers in industrial or government settings with a doctorate degree.
Students can also become physicians if they take extra medical training in addition to their biology degree. There are many careers in biology and opportunities for students with a biology degree, and an associate degree is the first step toward these opportunities.
How Much Can You Earn With a Biology Degree?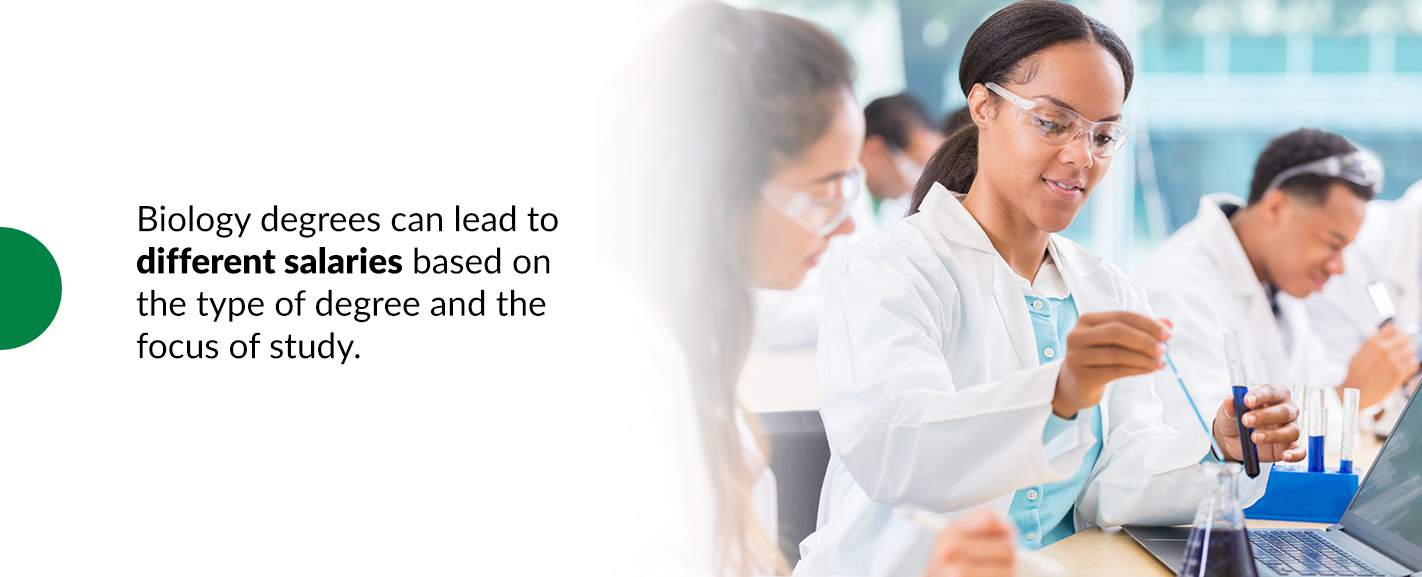 Biology degrees can lead to different salaries based on the type of degree and the focus of study. The U.S. Bureau of Labor Statistics (BLS) reported that biological technicians earned a median annual salary of $46,340 in 2020, and the highest 10% of people in this career earned over $74,600 annually. Students can go on to pursue this career with an associate degree.
With a bachelor's degree, students can become biology teachers at the high school level. In 2020, the BLS reported that high school teachers earned a median annual salary of $62,870, with the top 10% earning over $102,130. With a bachelor's degree, students can also pursue careers as environmental scientists, which earned an annual median salary of $73,230 in 2020.
Students with a master's degree can earn up to $106,320 annually as a zoologist or $125,280 as an agricultural scientist. With a doctorate degree, students can move on to earn even higher salaries of over $164,650 as medical scientists or $169,860 as biochemists or biophysicists.
The salary you can earn with a biology degree will depend on how far you continue your education and which focus you choose to pursue. With so many biology degree careers to choose from, you can work toward your desired salary.
Save Thousands on Your Bachelor's Degree
You will save thousands earning your Associates in Biology at Mount Wachusett Community College before transferring to a bachelor's program at a four-year school. All your credits will transfer seamlessly to Massachusetts state colleges and universities where you can continue your education as a junior and earn your bachelor's degree in biology. When you complete your biology degree requirements at MWCC, you will be halfway to your bachelor's degree. Just think: with all the money you save at MWCC, it will be a lot easier to pay for grad school!
Take All the Essential Biology and Chemistry Classes
Our 62-credit biology curriculum integrates the complementary disciplines of chemistry and physics. Core courses include:
Biology I
Biology II
Organic Chemistry I
Ecology
Organic Chemistry II
Genetics
You'll also be able to choose from electives that take you deeper into the science and provide useful credits for transfer, like Physics for Engineering and Science, Microbiology, Cell Biology, and Calculus.
Enjoy Our State-of-the-Art Science Center
We put a lot of thought into how you would use the new Dr. Daniel M. Asquino Science Center. Your ability to learn our rigorous curriculum was most important. So we built a space that would help you. For example, you will notice your lab benches are not the traditional black color. This is because studies show lighter-colored rooms improve learning. We let in plenty of natural light with floor-to-ceiling windows and interior glass walls. We even keep the air in the lab fresh — there is 100% airflow turnover every hour in all lab rooms. When you are comfortable and healthy, you learn better. If you haven't seen the new Dr. Daniel M. Asquino Science Center and 2,300-square-foot greenhouse, we invite you to schedule your visit.
Pursue Your Biology Career at MWCC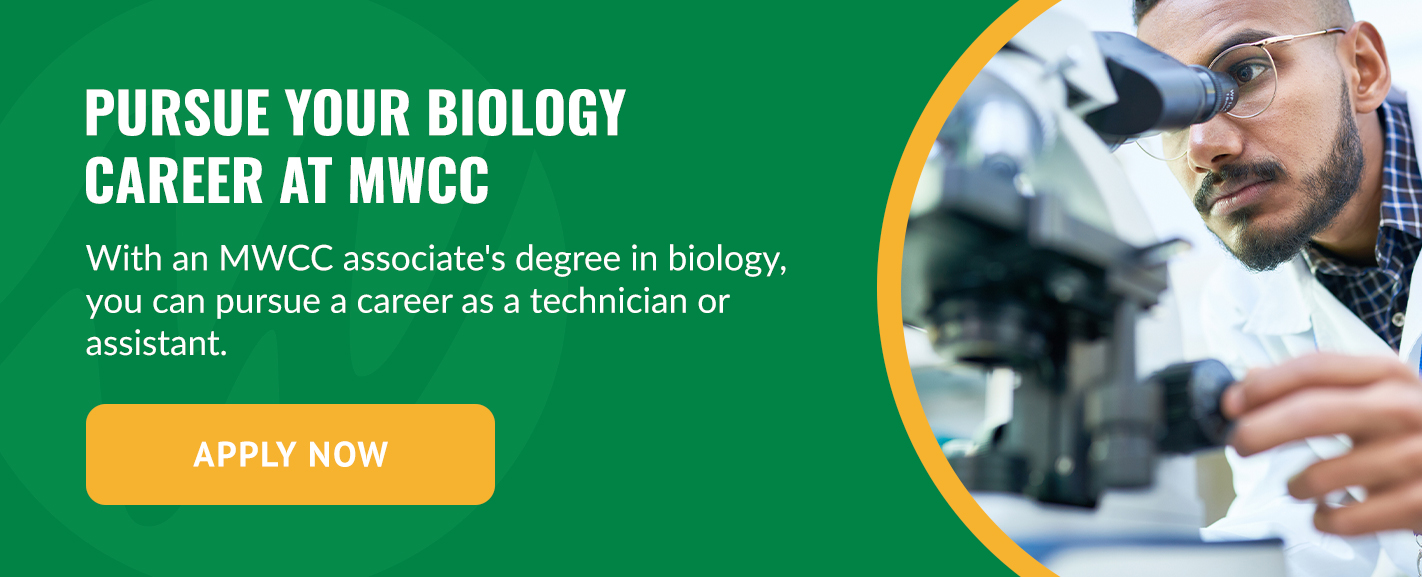 When you earn an associate degree in biology at MWCC, you open the door to numerous opportunities and save money along the way. With an MWCC associate degree in biology, you can pursue a career as a technician or assistant. However, you can further your knowledge and career even more if you decide to carry your earned credits into other biology degree programs you pursue, whether you choose to work toward a bachelor's degree or move on to complete a doctorate program.
By earning your associate degree at MWCC, you can complete part of your bachelor's degree requirements and save money. Earning an associate in biology can introduce you to the different focus areas of the biology field and help you decide what interests you most. From there, you can pursue a wide variety of possibilities and career opportunities. If you're ready to pursue your dream career, schedule a visit with us today.
---
Biology Department Chair
Carrie J. Arnold

Chair of Biology & Chemistry Departments, Professor
978-630-9379
Devens Campus
carnold@mwcc.mass.edu
Teaches:
Microbiology
Industrial Microbiology
Anatomy & Physiology
Life Science for Allied Health