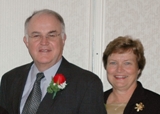 James and Peggy Garrison
James O. Garrison has served as a member and Chair of the MWCC Board of Trustees. Through generous contributions to the MWCC Foundation, Jim and his wife Peggy were major forces in making the construction of the college's Garrison Center for Early Childhood Education possible.
"We made our first major gift to MWCC to the building fund in 2005. It is my strong belief that all children should have access to a quality preschool education.
"When serving on a school board in New Jersey in 1968, the head of a local Head Start program convinced me of the importance of early childhood development programs for all children. He said, 'You create high school drop-outs in preschool when there is no access to early childhood development programs because the kids who don't have the environmental opportunities to expand their world get into class with kids who had those opportunities…and start losing self-respect', " Garrison explained.
"I'm proud to have played a role in bringing the building to life, but that was not enough. In order to broaden the programs and expand access, we needed to increase the number of teachers. That is why we endowed the Garrison Fund for Early Childhood Education Fund" The fund provides $100,000 annually for student scholarship funding, childcare stipends for students in the Early Childhood Education Program, and supports the capacity-building efforts of the Early Childhood Education program.