Welcome and Thank You for Your Service
MWCC Veteran Services was established specifically to address the unique academic, financial, physical, and social needs of veterans transitioning from soldier to student. Staff are committed to providing Military Service Members, Veterans and their families with quality assistance and guidance throughout their academic career at MWCC. Feel free to visit the Director of Veteran Services located on the Gardner campus in room H150 for support, resources, and information.
We offer assistance with: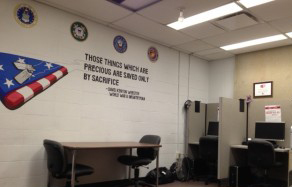 Enrolling & registering for classes
Veterans benefits and financial aid
Textbook loan program
Referrals to on and off-campus service providers
Peer tutoring/peer mentoring
---
Mount Wachusett Community College officially subscribes to the US Dept of Education's 8 Keys to Veteran Success.
The 8 Keys to Veterans' Success
Create a culture of trust and connectedness across the campus community to promote well-being and success for veterans.
Ensure consistent and sustained support for veterans from campus leadership.
Implement an early alert system to ensure all veterans receive academic, career, and financial advice before challenges become overwhelming.
Coordinate and centralize campus efforts for all veterans, together with the creation of a designated space (even if limited in size).
Collaborate with local communities and organizations, including government agencies, to align and coordinate various services for veterans.
Utilize a uniform set of data tools to collect and track information on veterans, including demographics, retention and degree completion.
Provide comprehensive professional development for faculty and staff on issues and challenges unique to veterans.
Develop systems that ensure sustainability of effective practices for veterans.
Mount Wachusett Community College complies with Public Law 117-68 (regarding in-state tuition) for public IHL's. MWCC also complies with Section 103, PL115-407 and the requirements of 38 USC 3679(e).
Mount Wachusett Community College complies with Public Law 116-315, Section 1020 and does not engage in aggressive or deceptive marketing to Veterans, Veteran dependents or Active Duty Service Members.
The Johnny Isakson and David P. Roe, M.D. Veterans Health Care and Benefits Improvement Act of 2020 requires educational institutions to make certain disclosures to students using federal military and/or VA educational benefits. You can find this and other financial information at NCES College Navigator site.
Semester Requirements for Chapter 33 and Chapter 31 Veterans Due Prior to the Start of Classes
Ch33 and Ch31 veterans must give us a current version of your DD214.
Ch33 veterans (and dependents using CH33 benefits) must bring us a copy of your Certificate of Eligibility from the VA. A print-out of your e-Benefits statement is acceptable.
Ch31 veterans must provide us a copy of VAF 22-1905 or electronic equivalent from their case manager.
Ch33 students with less than 100% benefits are responsible for whatever portion of tuition and fees their benefits do not cover. Applying for financial aid is encouraged.
CH33 and Ch31 students must bring Veteran Services a copy of their schedule for evaluation and to initiate the certification process.  If certification is not requested, be sure to bring us the student schedule with a note requesting us not to certify. When signing up for classes, be sure to choose classes that apply to the student's major. GI Bill® benefits can only be used for classes that apply to a specific program/major the student is enrolled in. GI Bill® is a registered trademark of the U.S. Department of Veterans Affairs (VA). More information about education benefits offered by VA is available at the official U.S. government Web site at https://www.benefits.va.gov/gibill.
Massachusetts veterans should fill out and sign a Mass Tuition Waiver.  If the form is not completed, $25 for every credit taken will be applied to the student's invoice, i.e. 3-credit course: $75.
All students must fill out Health Insurance Waiver, unless you already have this current school year. If the student does not, approximately $3600- will be added to the student's invoice for college health insurance.
If the above steps are accomplished prior to the start of classes for the semester, Ch33 and Ch31 students will be able to attend classes for the term.  Moreover, Ch33 and Ch31 students will not incur any penalty, including the assessment of late fees, the denial of access to classes, libraries, or other institutional facilities, or the requirement that a covered individual borrow additional funds, on any covered individual because of the individual's inability to meet his or her financial obligations to the institution due to the delayed disbursement funding from VA under chapter 31 or 33.
Veteran students are given priority registration status and will be permitted to register as soon as enrollment opens.