If you have a passion for learning, Mount Wachusett Community College (MWCC) offers personal enrichment courses for people of all ages and backgrounds to enjoy. There are many benefits to continuing your education beyond earning a degree. Studies show that lifelong learning helps improve your physical, social, emotional and economic well-being. People often find that education is one of life's most rewarding hobbies.
At the Mount, we believe that learning never ends. Our Community Education department offers a wide variety of courses to help you enhance your skills, learn a new hobby or earn a certificate to help your career. We schedule Community Education courses during evenings, weekends and even online. If you're searching for opportunities to expand your mind, there's always something new to learn at MWCC!
Check out the Fall 2023 Community Education Catalog
What Is Community Education?
Community Education is the pursuit of knowledge to achieve personal development and fulfillment. People participate in education programs inside or outside of a traditional classroom, acquiring new skills and knowledge. You can develop countless skills, from cooking a new recipe to mastering an entire language.
Benefits of Community Education for Adults
Humans are born with a natural curiosity and desire to learn new things. However, as people age, they tend to become distracted by other responsibilities. Creating new goals and following your interests with lifelong learning can help you lead a more fulfilling life. Seeking out educational opportunities has the following benefits.
1. Professional Growth
The world is constantly changing and presenting you with new career opportunities, you can adapt to shifts in industries using the knowledge and skills you've developed over time.  You can also focus your continuing educaiton on topics that are directly relevant to your industry. Learning Spanish or completing a certificate program could help you earn a promotion at work. Studies show that people who learn and adapt quickly become higher-performing professionals.
2. Healthy Mind
One of the most significant benefits of continuing to learn new things is a healthier mind. The brain is like a muscle that gets stronger when you use it regularly. Research shows that lifelong learning strengthens your brain and delays symptoms of cognitive disorders like dementia and Alzheimer's.
Continued education also helps improve your memory, reduce your stress levels and improve your mood. Lifelong learners tend to have higher self-confidence and emotional resilience, which helps prevent depression in older adults. Seeking mental stimulation with personal enrichment courses can help you stay happier and healthier for years to come.
3. Personal Fulfillment
It's easy to get stuck doing the same tasks every day. Learning something new helps you break out of your shell and find something that you enjoy. Following your passions and mastering new skills will help you achieve personal fulfillment in life.
4. Social Enrichment
Participating in personal enrichment courses at MWCC allows you to develop new skills alongside other students who feel passionate about learning. You'll have the opportunity to meet new people and connect over your similar interests.
You'll use what you learned to relate to people you meet outside of class. Having a wealth of knowledge about diverse topics makes it easy to connect with others. Lifelong learning can lead to lifelong friendships.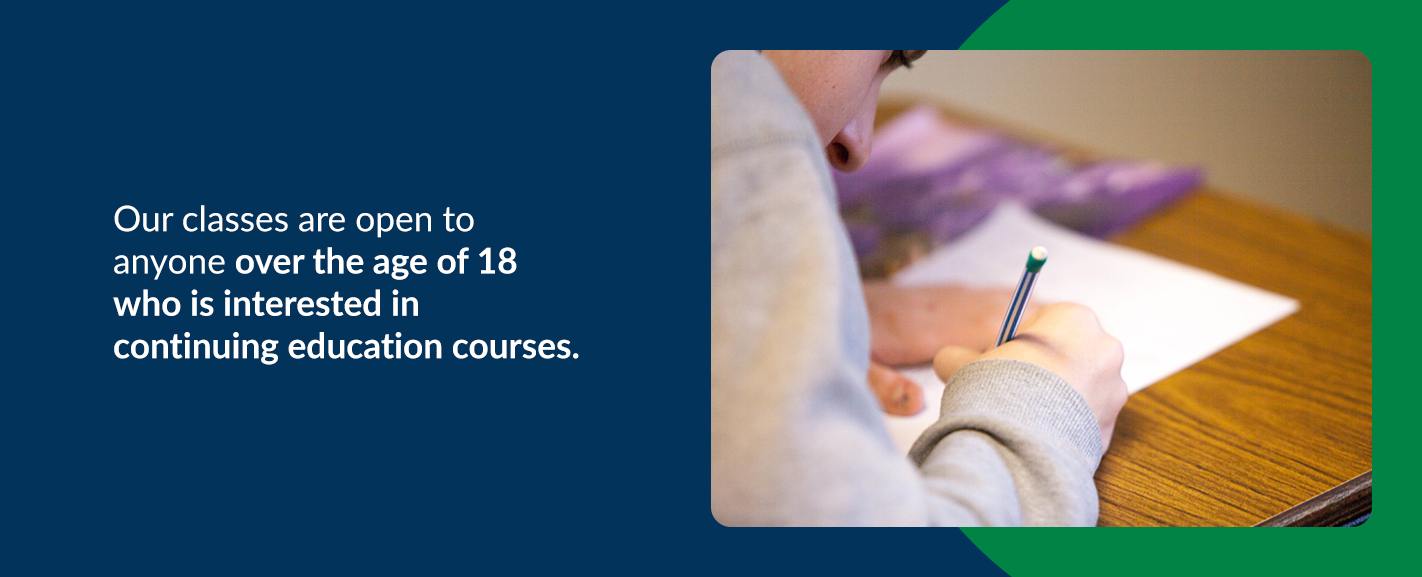 At MWCC, we make it easy to follow your passions with personal enrichment classes taught by a team of expert instructors. Check out our course catalog above to find the latest offerings. Our classes are open to anyone interested in continuing education courses. Registration is simple, and classes are affordable. The community education courses are non-credit, but you can earn certificates to support your career.
You'll find lifelong learning courses on a wide range of fun and practical topics like:
Health and wellness.
Arts, crafts and photography.
Music, dance and acting.
Homeownership.
Safety.
Woodworking.
Finance and investing.
Business and professional development.
Writing, publishing and literature.
Computer technology.
Workforce development.
Courses for Fun and Relaxation
Students of all ages come to MWCC for fun and rewarding course opportunities:
Adirondack Chair Making
Outdoor and Nature Photography
Beginner Tap (for teens and adults)
Introduction to Stand-up Comedy
Paint Your Pet
Our classes are a great way to meet new people or bond with a spouse, child or friend!
Courses for Career Enhancement
We also offer courses to help you grow your business, enhance employees' skills and maintain customers. We offer software training on programs including Microsoft Word, Excel and Powerpoint, Etsy and Google Business Suite applications. Because they are not credit courses, no grades or exams are involved — except for licensure courses like EMT or one of our advanced life support courses.
Here are some workforce development courses to boost your resume:
Google IT Support Professional Certificate
Diversity Training for Employees and Managers
Online Marketing Communications Suite
Medical Billing and Costing Course
New Personal Enrichment Classes
We're always adding new personal enrichment courses! Here are some our recent offerings.
Introduction to Hiking
Meditation for Wellness and Self Healing
Healthy Aging: Eat Well, Move Well, Be Well
Sketching and Painting in a Nature Journal
Tunisian Crochet for Beginners
Beginner Guitar
Emergency Radio Communications
NRA Home Firearm Safety
Google Applications for the Workplace
Creative Writing
Organizing and Decluttering
Check out the complete list of new courses in the catalog below. We offer dozens of personal enrichment and career development classes to choose from. If you've missed any start dates, check back in the winter and spring for the latest courses and class schedule.
Interested in Teaching a Community Education Course?
We are always looking for great instructors to bring new and exciting concepts to our community. Complete this Course and Instructor Proposal Fillable Form and email it to crojas2@mwcc.mass.edu to apply!
Pursue Lifelong Learning at the Mount
At Mount Wachusett Community College, we have a wide range of courses to help you gain new skills, enhance your career and enrich your life. We offer personal enrichment classes online and night school programs so that lifelong learning is accessible to everyone. Our course list is constantly growing and changing to accommodate people of all ages. You're sure to find something that sparks your interest.
If you have any questions about our personal enrichment programs, don't hesitate to reach out in one of the following ways:
Call 978-630-9525
Email noncredit@mwcc.mass.edu
Visit the Gardner Campus — Rooms 162 and 163
If you're ready to start your journey toward personal fulfillment, register for a course today!