Welcome to the Brewer Center
The Senator Stephen M. Brewer Center for Civic Learning and Community Engagement promotes positive social change and healthier, more vibrant communities through innovative programming and partnerships that benefit our community and Mount Wachusett Community College.
The Brewer Center's programs engage students, faculty, and staff with the community through:
service learning
volunteerism
internships/co-ops
civic outreach
With individuals, organizations, and businesses in north-central Massachusetts as our partners, we achieve true impact and deliver tangible outcomes through programs and initiatives such as The Democracy Commitment and United Way Youth Venture.
Brewer Center Hours and Contact
We are available Monday, Tuesday, Thursday and Friday from 8:00 am to 4:00 pm, and Wednesdays from 8:00 am to 6:00 pm. The Brewer Center is headquartered in Room 152 at the Gardner Campus. You can reach us at 978-630-9187 or via community@mwcc.mass.edu.
What's Happening at the Brewer Center?
Upcoming Events
Brewing Conversations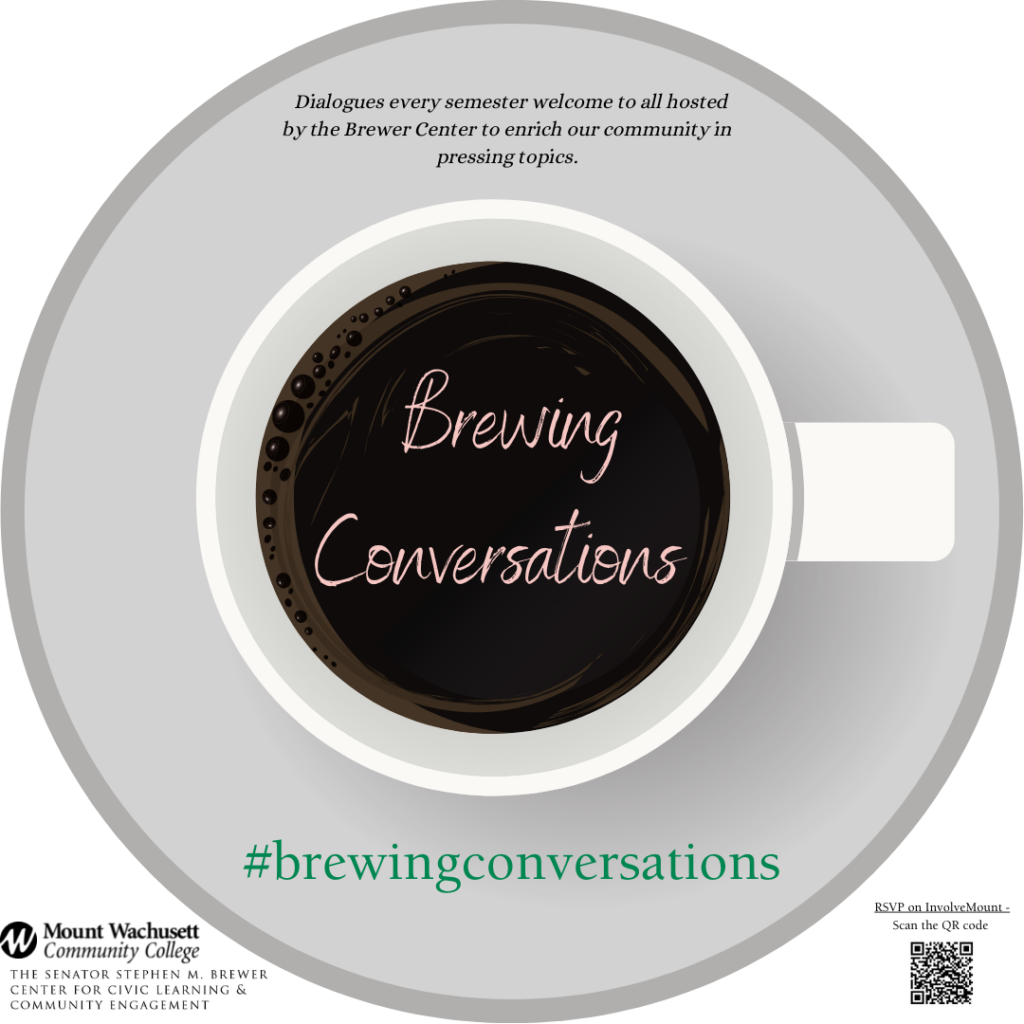 The Brewer Center for Civic Learning and Community Engagement is excited to announce our Fall 2021 lineup for dialogue topics. Our dialogue series has now also received a new name, Brewing Conversations!
September 22nd – Critical Race Theory
October 6th – Hispanic American Heritage Month
October 13th – Coming Out
October 27th – Cancel Culture vs. Accountability
November 3rd – First Generation Dialogue/Panel
November 10th – Free Press
November 17th – The History of Thanksgiving
December 1st – Conversations During the Holidays
Please be on the lookout for calendar invites to these dialogues soon or keep an eye out on InvolveMount.
Interested in suggesting a future topic? Fill out our Qualtrics form: Dialogue Topic Suggestions – Brewer Center
Explore some of our past community dialogues here:
Summer Series 2021
Spring 2021 Dialogues "Engage Beyond Voting"
Fall 2020 Dialogues "Check to Elect"
Other Community Activities