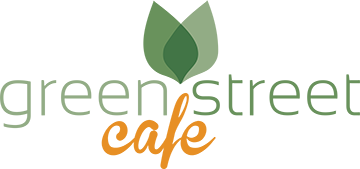 Come on in! Re-opening January 24!
Grab a quick organic coffee to go, or sit down to a hot meal with friends. The Green Street Cafe has a wide variety of healthy and delicious options!
We're open Monday through Thursday from 7:30 am to 2:30 pm, and Fridays from 7:30 am to 1:30 pm.
The Green Street Cafe' offers Daily Specials at each station in addition to our regular menu. There is always something for everyone!
Full-Service Catering is also available with a 10-day notice and is customizable to your group needs.
Students and staff can check out the weekly menu and catering menu on iConnect.
---
Typical Breakfast Offerings:
Organic Egg Entrees
Breakfast Specialties
In-House Baked Muffins and Pastries
Toast Your Own Bagel Station
Organic and Greek Yogurt and Fresh Fruit Items
Cold Cereal and Hot Oatmeal
Typical Lunch Offerings:
Grab and Go Salads and Deli Sandwiches
Hot Entrees Including Grilled Burgers, Crispy Chicken Tenders and Fried Favorites
Hot From Our Oven Pizza
Homemade Scrumptious Soups
"The Hungarian Mushroom Soup is AMAZING! I make sure to get it whenever its on the menu!" ~Nia C.
Beverages Offered:
Dean's Beans Organic, and Fair Trade Hot and Iced Coffee
Organic Herbal Teas
Coke Products
Odwalla Beverages
Bottled Milk and Juices
Don't forget dessert!  
"The chocolate cake is my favorite!" ~ Joyce C.
---
Check out the Green Street Café with the 360° Tour Below!