For over 40 years, Theatre at the Mount has been Central Massachusetts' premier regional theatre presenting high-quality entertainment at affordable prices. TAM's season consists of five full-scale musicals and plays, a spring children's show and a fall touring production performed at local elementary schools. Additionally, TAM offers Summer Drama Camp programs for children and teens and sponsors the TAMY award program, celebrating excellence in high school musicals. Season tickets packages, dinner theatre options and backstage tours for groups are also available.
WE WILL ROCK YOU
WE WILL ROCK YOU takes place in a future age on a planet once called Earth that is now controlled by a mighty corporation … rock music is unheard and all musical instruments are banned. The hope of breaking free rests with an unlikely resistance – an alliance of rebel Bohemians. The show features many of Queen's chart topping hits including "We Will Rock You," "Bohemian Rhapsody," "Radio Gaga," "Another One Bites the Dust," "We are the Champions," and more. It's the world champion of musicals and the show that rocks harder than any other, so don't miss the party!
August 10, 11, 17, 18 at 8PM & August 19 at 2PM
What's New?
Theatre at the Mount
2017–2018 TAMY Awards
High School Musical Theatre Competition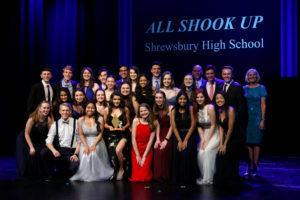 Theatre at the Mount is pleased to announce the winners in the 2017-2018 TAMY AWARDS, High School Musical Theatre Competition. With 23 High School Musical Productions entered, the list of winners truly represents the "best of the best" in High School Musical Theatre.
The TAMY Award program recognizes the extraordinary amount of work, creativity, and devotion that faculty and students pour into their high school theatrical productions. The TAMY Awards celebrate the entire art of musical theatre: casts and crews, directors and designers and the great musical theatre works that inspire such devotion.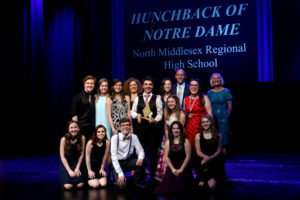 Winners were honored at a "red-carpet" Awards Ceremony and reception, modeled after Broadway's Tony Awards, at Theatre at the Mount on May 20, 2018 at 5:00PM. A spectacular opening number performed by the nominees and a slide show of production photos kicked off the evening. Theatre at the Mount performer and professional actress Courtney Bassett was the featured speaker. Guests were also treated to vocal performances by the nominees in the Best Actor and Best Actor categories. Announcement of the winners in each category was the highlight of the evening.
---
Recent Productions
Click on image to enlarge