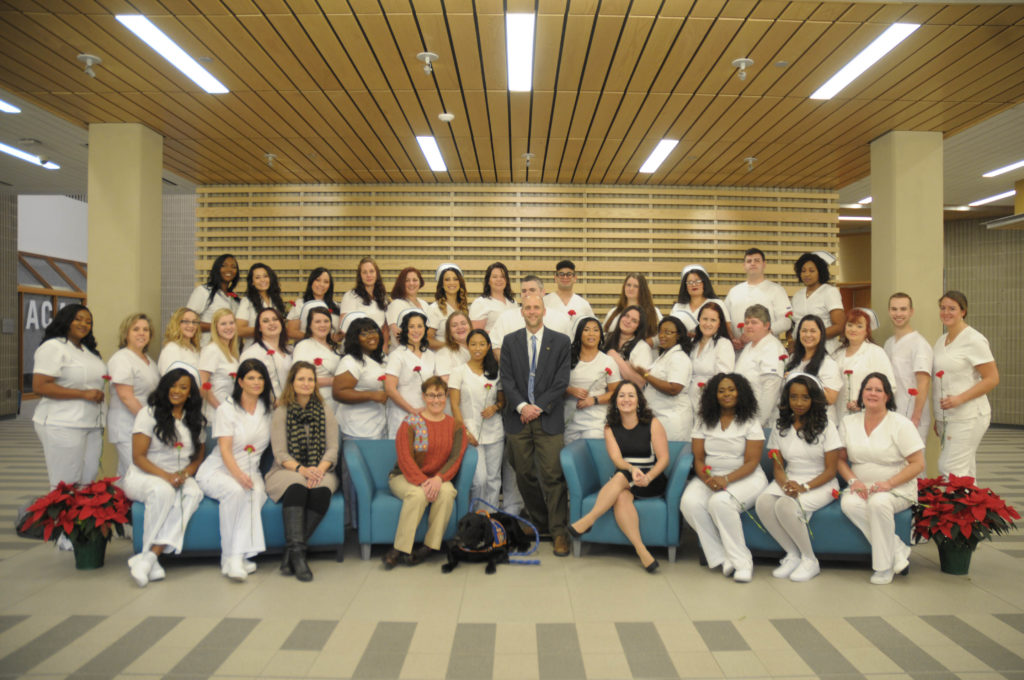 On Monday night, 39 licensed practical nursing students from 25 communities were welcomed into the nursing profession during the traditional nurses pinning ceremony that marks the end of their schooling at Mount Wachusett Community College.
"The pinning ceremony is always my favorite," MWCC President James Vander Hooven told a theater full of friends and family of the graduating class at the ceremony Monday night. "You get to see the emotion in their faces. You get to know what they've been through. And you get to know that moving into the future we are graduating students who are going to save lives."
The graduation ceremony capped off a 41 week certificate program for the students who may go on to work as nurses in health care facilities including doctor's offices, long-term care facilities and clinics.
"We're here because we want to make a difference. We had that call light click on for us and we made a sacrifice of so much sweat and tears," said LPN John Mazur during the ceremony. "We stuck with it and we pushed past our envelope… and no matter what the future holds for us and how far we travel, a part of us will always remain here at Mount Wachusett Community College."
Dressed in traditional nurse uniforms, the students were welcomed into the profession by having the program's nursing pin fastened to their lapels by a family member, friend, or an alumnus of the program, or a faculty member. The pin marks where the nurses completed their studies and distinguishes them from other healthcare professionals. The eight-star MWCC pin is imprinted with the words "Service to Humanity and the World."
As part of the ceremony, the students also took a nursing pledge that dates back to Florence Nightingale, who distinguished herself during the Crimean War by coming to the aid of sick and wounded soldiers.
The practical nursing class of 2018 that was honored at the pinning was made up of:
Kathy Berg of Fitchburg
Sharon Boucher of Acton
Danyelle Bushee of Athol
Tinashe Chiza of Webster
Brianna Coburn of Lunenburg
Nathan Cornwell of Fitzwilliam, NH
Marcia Dasilva of Acton
Jenny Duong of Fitchburg
Sarah Entwistle of Fitchburg
Christabel Erhagbai of Fitchburg
Mariah Fogg of Jaffrey,NH
Eunide Guillet of Salem
Laureen Haynes of Richmond, NH
Jessica Jalbert of Westminster
Joyce Jenness of Townsend
Lydia Kusiwah of Worcester
Amy Larocque of Winchendon
Melanie Lincoln of Gardner
Erin MacKenzie of Harvard
Darsea Martin of Templeton
Keyla Mayorga of Fitchburg
John Mazur of Rutland
Shelby McFaul of Leominster
Angella Nanyanzi of Lowell
Catherine Njoroge of Worcester
Mary Njoroge of Lowell
Lauren Noronha of Marlborough
Justine Pottinger of Erving
Mackenzie Powers of Ashby
Anna Ribeiro of Leominster
Gladys Rie of Worcester
Bryan Rios of Fitchburg
Chamroeun Sok of Leominster
Donna Songer of Athol
Jennifer Swain of Leominster
Jessica Thomas of Fitchburg
James Tirrell of Fitzwilliam, NH
Kourtney Van Tassell of Ayer
Kara Wheaton of Barre