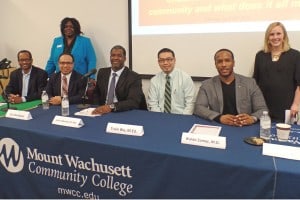 Have a sense of belief in yourself. Be open minded about issues. Engage in community service. It's really about finding what motivates you. Be assertive and go after it.
These were just some of the words of wisdom shared by five professionalss in the fields of medicine, healthcare, education and public service during MWCC's Men of Color panel presenation before a capacity crowd in the North Cafe.
The Lead Day event capped off the college's series of Black History Month events and kicked off this spring's new forum, the Tea Time Speaker Series, by exploring obstacles men of color face in today's society, workforce and education system.
Panelists included University of Massachusetts Medical School: Brian Lewis, Ph.D., associate dean for student diversity and associate professor in the Molecular, Cell and Cancer Biology department at the University of Massachusetts Medical School; Eric Rodriguez, Lead Organizer at United Neighbors of Fitchburg; Jesse Edwards, director of diversity and equal opportunity at UMass Medical School; Train Wu, senior outreach specialist/career coach with MWCC's Workforce Diversity Pipeline Program; and Waldo Zamor, MD., Class of 2016 UMass Medical School.
The forum was moderated by MWCC Senior Resource Specialist Sharmese Gunn, who developed the series as a way to create a dialogue around diverse issues that engages the college community and members of the greater community. President Daniel Asquino welcomed the panelists and audience.
The event was sponsored by MWCC's Diversity Consortium, Gateway to College program and the National Workforce Diversity Pipeline program. The pipeline project, a new initiative between the college and the Fitchburg and Leominster public school distrits for students interested in healthcare careers, is funded by a grant from the U.S. Department of Health and Human Services' Office of Minority Health.
Upcoming Tea Time Speakers Series events will include Immigration and the Undocumented Student on March 28 and Understanding the LGBTQA Community on April 25.