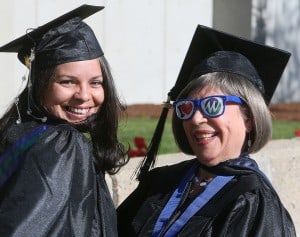 Jose Mangual, academic counselor for students enrolled in MWCC's English as a Second Language program, has a ready answer for prospective students who feel they are too busy, too old or not ready to enroll in courses.
He introduces them to students who once had the same concerns, but now are succeeding not only in the ESL program, but in MWCC academic programs as well.
"If someone says, 'I'm too old, I'm in my 40's and I'll be the oldest student there,' I say, 'Have you met Aurea Carrion? She is 81!' "
Mangual served as host of the ESL program's annual year-end celebration, which recognized the achievements of residents new to the U.S. from Puerto Rico, the Dominican Republic, Haiti, Uruguay, Brazil, Egypt, Ghanna, Syria and Vietnam. The festive event, held at the Leominster campus, featured laughter, encouragement, and array of traditional food.
Special recognition was given to students who recently advanced in or completed their ESL courses, as well as to Ms. Carrion, who graduated with an associate degree in Human Services, and Sheila Boria, who earned an academic certificate in Human Services.
Carrion, who previously earned an associate degree from MWCC in 1990 in Secretarial Studies, worked as a liaison between the community and the Fitchburg and Worcester public schools. She retired from the Worcester Public School system in 2006.
Since then, she returned to MWCC to pursue her interest in the human services field and earned her academic certificate in Human Services in 2013. "I never get tired of studying," she said. Her goal is to continue working in the human services field.
In addition to serving as president of the ESL club, Ms. Carrion has volunteered countless hours at the Leominster campus and most significantly, serves as an inspiration to fellow students. "It's never too late!"
"I said if she can do it, I can do it. She was my inspiration," said Ms. Boria, who will continue her studies and aspires to become a lawyer. "This is important to me. This is my future."