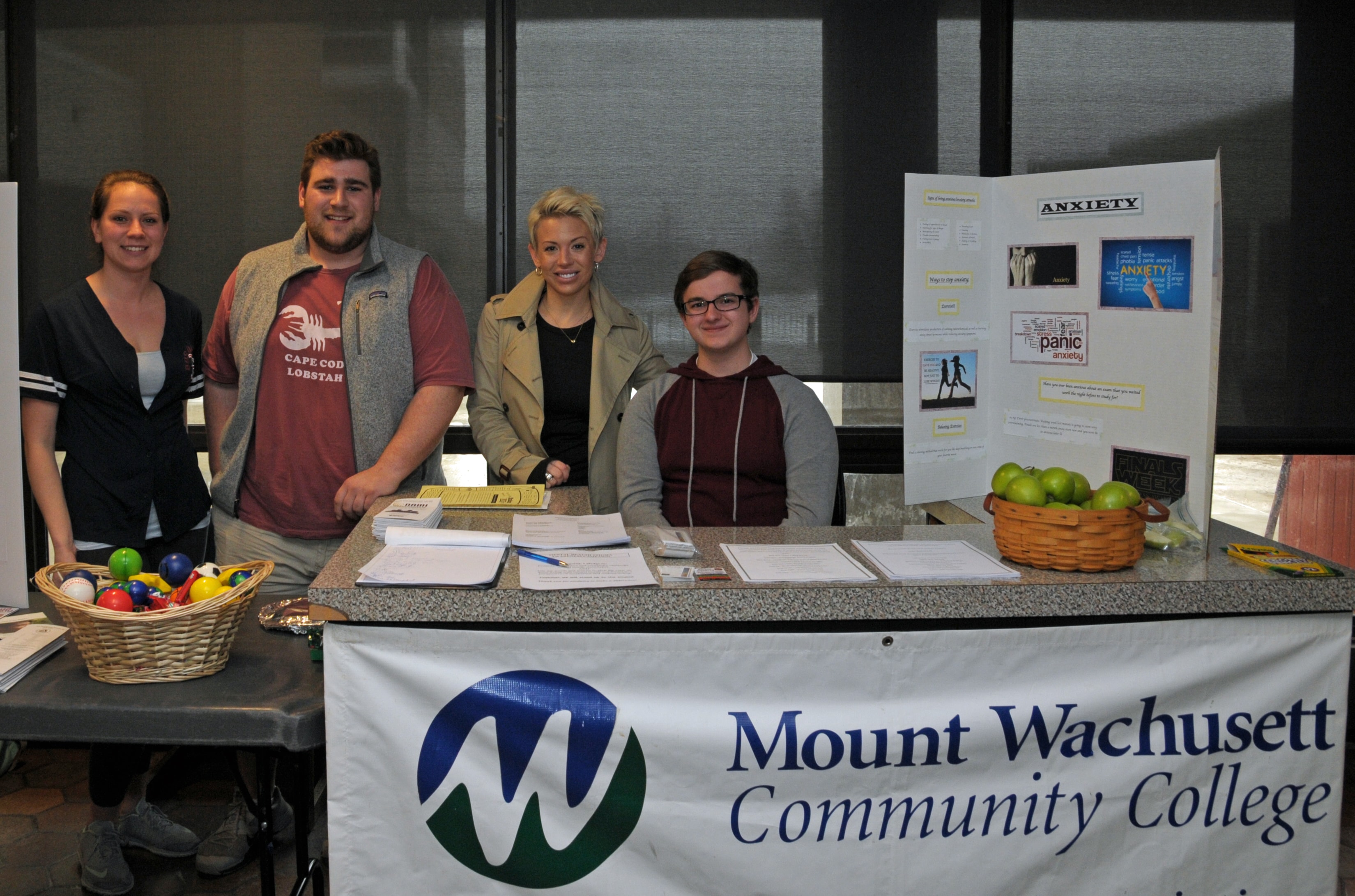 (Story By Andrew Mansfield Courtesy of The Gardner News) Advocates for the treatment of mental health conditions have long spoken about the need to reduce misconceptions and the blame sometimes placed on people.
Joining the cause to help further educate the Mount Wachu­sett Community College campus about the topic on Tuesday were students from Professor Sheila Murphy's Abnormal Psychology class.
Murphy and students set up an informational table in the hallway outside the cafeteria which featured brochures and posters going over mental health conditions such as anxiety, depression and addiction.
"It can happen to anybody," student Liz Gagnon said, adding that breaking the stigma is a "huge factor in being able to make real changes."
On that point, their table also included an anti-stigma campaign pledge for fellow students and staff to sign when they visited.
Signing the pledge was a way for people to show their support for not using hurtful language when speaking about mental illness.
Acknowledging the whole person and not just their condition is a focus of the anti-stigma campaign. One of the handouts at the information table went over language that is considered respectful and language that is considered disrespectful.
For example, it would be considered respectful to refer to someone as a "person with schizophrenia" or "person with bipolar disorder" but would be considered disrespectful to simply refer to someone as a "schizophrenic" or "manic depressive."
In addition, calling someone "crazy" or a "psychopath" or a "handicapped person" are terms they advise to avoid.
"It's really dismissing who they are as a person," student Will Cooney said. "It takes away from the legitimacy of it."
By reducing stigma, the idea is to foster a more encouraging social environment for open dialogue. The students' table also included information on resources for treatment.
"I feel like they're already tough topics so to have stigma and labels added on, it's hard to ask for help," student Erika Holm said.
"We want people to feel they can get the proper help they need," Gagnon added.
Tuesday's showing from Mount Wachusett students came on the heels of college President James Vander Hooven on Monday signing onto the CEOs Against Stigma initiative by the National Alliance on Mental Illness of Massachusetts.
The advocacy organization states that 20 percent of U.S. adults are currently suffering from a depressive illness and that mental illness is the leading cause of disability in the workplace.
In specific regard to the prevalence of addiction, a national survey by the federal agency Substance Abuse and Mental Health Services Administration published in 2014 provides statistics.
According to the survey, about 21.5 million people age 12 or older had a substance use disorder for alcohol or illicit drugs within the past year.
People who met criteria for dependence or abuse of a substance were defined as having a substance use disorder, the most common being for alcohol at 17 million.
Another aspect of mental health that Murphy and students spoke about on Tuesday were the concepts of choice and blame.
They pointed out there are often hereditary factors that play into the development of a mental health condition.
"It is not necessarily your fault if it's biological," student Cameron Taylor said.
That can play a role in the case of addiction too with some people being more likely to develop a dependence after they begin to use based on their genetics.
Cooney explained that while it is smart to say no to harmful drugs such as opiates, many people make a bad choice at a young age.
"Once you've made that mistake, the body changes and it becomes dependent," he said. "The neurons in your brain, the synapses in your brain fire differently."
He added that most addicts feel remorse for their actions.
Murphy envisions a world in which mental illness and its impact on the brain are treated the same way as physical illness and its impact on the body, arguing "there is really no difference."
She brought up the examples of cancer and diabetes, that if someone suffers from those, it is not looked down upon to seek treatment, it is considered normal.
But with mental health she said people are stigmatized and "we blame them."
"It's time to stop blaming someone," she said.
Among her students, Gagnon is working toward a certificate in substance abuse counseling at the Mount.
Holm mentioned her interest in studying expressive therapy, which involves using creative art as a form of therapy which can be helpful for anxiety as an example.
Cooney is studying criminal justice at the Mount and has taken an interest in researching addiction. Cameron is a dual-enrollment high school student and plans to study nursing at the Mount next year.
Their mental health awareness and anti-stigma campaign is part of a service learning project they are doing for Murphy's class.
"These four students have been amazing in putting it all together and promoting it across campus," Murphy said.