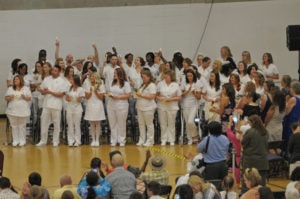 Family and friends from as near as Gardner and as far away as Kenya came to celebrate the achievements of Mount Wachusett Community College's associate degree nursing class during a traditional pinning ceremony held May 18 in the Fitness & Wellness center.
The 44th graduating class was comprised of 102 students enrolled in the day and evening programs and included LPNs who returned to continue their education through the college's Bridge to Nursing program.
Dressed in traditional nurse uniforms, the students were welcomed into the profession by having the program's nursing pin fastened to their lapels by a family member, friend, or an alumnus of the program, or a faculty member. The pin marks where the nurses completed their studies and distinguishes them from other health care professionals. The eight-star MWCC pin is imprinted with the words "Service to Humanity and the World."
As part of the ceremony, the students also took a nursing pledge that dates back to Florence Nightingale, who distinguished herself during the Crimean War by coming to the aid of sick and wounded soldiers.
The graduates were:
Ashburnham
Cassandra Benes
Lisa St John
Athol
Aurora Erali
Jessi Kuehl
Sarah Rattet
Auburn
Shawn Bello
Megan York
Ayer
Andrea Inostroza
Heather Sinofsky
Baldwinville
Tiffany Barsamian
Kayla Boutell
Brookfield
Sara Gallant
Meghan Robidoux
Cherry Valley
Stacy Riel-Rigiero
Clinton
Colleen Hannen
Erin O'Connell
Dracut
Shelmith Karimi
David Mungai
Dudley
Stacy Stackrow
Fitchburg
Nanam Adwubi
Allesandra Hollenkamp
Ashley McKinnon
Sharon Nabulime
Deanna Rossi
Amy Shattuck
Stefan Sicard
Framingham
Simone de Souza
Hanna Gyamfi
Gardner
Kristin Anderson
Benjamin Blake
Megan Casteel
Ashley Comley
Cynthia Cormier
Elizabeth Crete
Britnii Dyer
Acacia Fisher
Shannon Kelley
Charles Njaaga
Julia Pitre
Lani Scanlan
Kristina Snay
Amy Tervo
Grafton
Megan McNeil
Greenfield, NH
Andrea Langley
Groton
Stephanie Casey
Holden
Carolyn Felicio
Jaffrey, NH
Amanda Boucher
Rebecca Myott
Paula Whitcomb
Keene, NH
Ryan Firmin
Leominster
Samantha Berry
Elizabeth Brown
Lisa Doherty
Anna Gamaya
Felicia Harwood
Jocelyn Klein
Julie LeClair
Maysha Peckham
Veronica Valladares
Lowell
Beth Mwangi
Mamawa Sannoh
Lunenburg
Szerena Moyen-vonRosenvinge
Jodi Peternel
Valerie Poladian
Mija Waluck
Marlborough
Brenda Warren
New Ipswich, NH
Clayton Kuusisto
North Brookfield
Mindy Gendron
Keri-Ann Harvey
Oakham
Elizabeth Mahoney
Orange
Lisa Korpiewski
Pepperell
Rachel Pinney
Petersham
Ryan Lawrence
Princeton
Christopher Martin
Richmond, NH
Margaret Laplume
Rindge, NH
Manzall Mitchell-Dwyer
Bridget Murphy
Royalston
Ashley Sawyer
Russell
Sherry Whitman
Rutland
Courtney Champlin
Katelyn Kane
Sabrina Pettigrew
Shrewsbury
Katie Cooper
Spencer
Shannon Wolanski
Springfield
James Mugwanja
Sterling
Valerie Maloney
Amanda Nourse
Sutton
Kristina Pelletier
Templeton
Katherine Goguen
West Groton
Karen D'Agostino
Winchendon
Ashley Brunt
Leslie Cosentino
Worcester
Aaron Aikins
Monica Boafo
Judith Hunter
Joseph Kum
Lydia London
Eliud Mwangi
John-Mark Njenga
Guerda Pierre
Marta Szczubelek
Shana Tobin