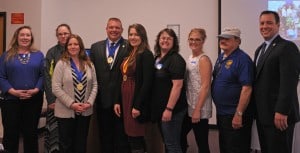 MWCC's Phi Delta Chapter of the Phi Theta Kappa international honor society inducted 61 new members and presented donations to community organizations from funds raised through a variety of events this academic year.
During the May 5 induction ceremony, the chapter presented checks of $500 each to the Gardner Community Action Council, the Winchendon Community Action Council, and the student-run Students Serving Our Students (SOS) mentor program at MWCC. PTK officers also recognized MWCC staff member Gardner Wood for his volunteer support building creative, fanciful props for the PTK annual Character Breakfast.
Gardner Mayor Mark Hawke, an MWCC alumnus and honorary PTK member, was the keynote speaker.
"Coming to the Mount was truly the best decision I ever made," he said after confessing to being a "straight C" student in high school. "It gave me the direction I needed and showed me what hard work would help me achieve. My professors gave me encouragement and inspiration to carry on."
After graduating from MWCC in 1994, Mayor Hawke went on to earn a bachelor's degree in political science from UMass, Amherst, and an MBA from Anna Maria College.
"If Mount Wachusett Community College had not been here, if Mount Wachusett Community College had not had the caring and professional professors and staff, I wouldn't be here. And if I'm not here, just imagine what condition the city of Gardner would be in," the five-term mayor quipped.
Chapter officers during the 2015-16 academic year were recognized for their service: President Jana Murphy; Vice President Thomas Berger; Secretary Stevie LaBelle; and Treasurer Lindsay Jamison. Officers installed for the upcoming academic year include Jana Murphy, for her second year as president; Lisa Barry, vice president; Kimberly Cook, secretary; and John Blombach, treasurer.
Founded in 1918, Phi Theta Kappa recognizes and encourages the academic achievement of two-year college students and provides opportunities for personal, academic and professional growth through participation in honors, leadership, service and fellowship programming.
The new inductees are: Donovan Aboal-Caceres, Kwadwo Acheampong, Terri Alden, Rebekah Amburgey, Linda Anderson, Sophia Andrews, Lisa Barry, Alexander Batutis, Sheila Boria, Amanda Boudreau, Romina Cabrera, Micaela Canessa Giorello, Matthew Casaubon, Karen Chapalonis, Sarah Chatigny, Kimberly Cook, Melanie Cranfill, Rhonda Cutler, Colleen Demboske, Simon Dufresne, Tara Dugan, Jaclyn Esparza, Amanda Favreau, Michelle Francisco Pimentel, Gregory Germagian, Samantha Goodale, Kristin Grantz, Zoe Hammond, Antonina Herbst, Michele Higginson, Nhat Hoang, Inna Kalfayan, Francis Koina, Rose LaFargue Joseph Leblanc, Christopher Lerew, Valerie Maloney, Yemni Mendez, Anne Nash, Matthew Niles, Hillary Nna, Cassandra Pateneaude, Lindsey Paul, Shannen Pimental, Marissa Pitisci, Dawn Marie Placentino-Olen, Crystal Pratt, Melissa Raggi, Kelsey Rayner, Brian Richard, Katelyn Schreiber, Rhonda Scoville, Benjamin Smith, Silvana Sosa, Michael Soto, Sarah Soto, Grace Stafford, Hollace Stevens, Casey Thoel, Rachel Vargeletis and Elizabeth Walsh.