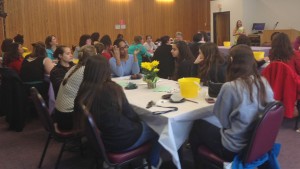 Approximately 50 students and campus mentors participated in the Access & Transition programs' Women in Leadership Forum on March 27 in recognition of Women's History Month.
Students in the Gateway to College, College Access Challenge Grant, Commonwealth Dual Enrollment Program, and the Pathways Early College Innovation School were nominated by their advisors to participate in the event. The half-day forum included information about the state of women in the world today, round table discussions, and a Jeopardy-themed icebreaker that quizzed participants on women in politics, sports and literature, famous quotes and other topics.
Melissa Bourque-Silva, MWCC Director of Dual Enrollment, led the informative and empowering event.