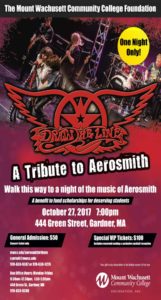 The Draw the Line Aerosmith tribute band will be performing at Mount Wachusett Community College on Friday, Oct. 27 in a fundraiser for the MWCC Foundation.
The 7 p.m. show at the Theatre at the Mount will feature music from the only endorsed Aerosmith tribute show. The band has received accolades for its faithful representation of the band in both look and sound. The look of lead singer Neill Byrnes is so authentic that he is set to play Steven Tyler in an upcoming Lynyrd Skynyrd biopic.
The price per ticket is $50 with the performance beginning at 7 p.m. Special student tickets are available for $5. Proceeds from this event help benefit scholarships for deserving students. Tickets may be purchased online.