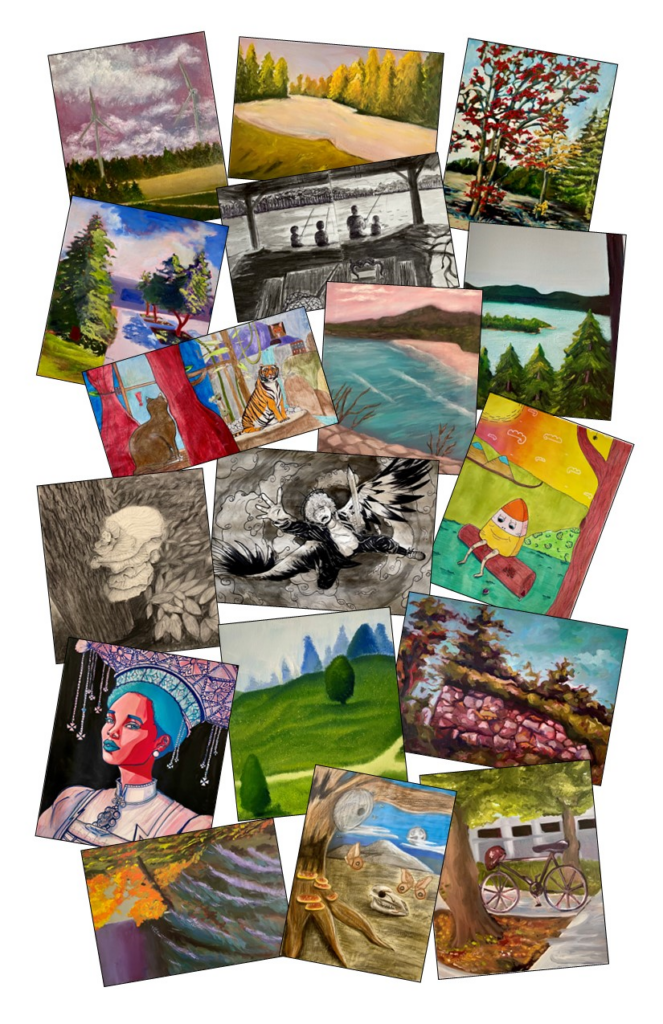 The Art Department at Mount Wachusett Community College is celebrating the accomplishments and success of students in the Annual Exhibition of Student Work in the first in-person student exhibit since pandemic restrictions moved the exhibits virtual in 2020.
Work by students in the Painting II and III and Drawing III courses is currently on display in The East Wing Gallery in the Raymond LaFontaine Fine Arts Center at the college's Gardner campus through January 27.
"We are proud to say we never canceled a student exhibit during COVID," noted Joyce Miller, Art Department Chair and Gallery Director. "We are thrilled to be able to welcome the community back to the Gallery for this special celebration of student work."
"This group exhibition is an opportunity to formally acknowledge and celebrate their success," adds Professor Jesse Connor who instructed these courses.
The art students at this level begin to use course assignments as a catalyst to develop their voice and vision in their work as they manipulate their medium and actualize their concepts as they develop their portfolios.
Students whose art is included in the exhibit are:
Richard H. Barrell
Hanalise Bennett
Megan Boivin
Richard Chang
Sydney Comire
Molly C. Donovan
Luke M. Fontaine
Nikki M. Hazel
Anna Clara Loureiro Lago
Mazie Love
Madolyn Niles-Carlson
Kara O'Neil
Mel Pagan
Gabriela M. Rodas
Molly Sullivan
Noah B. Uphold
Harleigh J. West
The East Wing Gallery hours this January are Monday through Thursday 8 am to 8 pm, and Friday 8 am to 5 pm, with the exception of January 16, 2023. Additionally, the gallery is always open during performances by Theatre at the Mount.