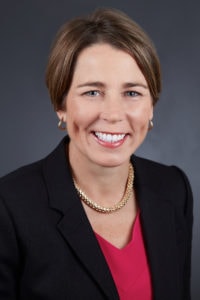 Massachusetts Attorney General Maura Healey will deliver the keynote address during Mount Wachusett Community College's Commencement on Wednesday, May 17.
"We are delighted to welcome Attorney General Maura Healey to our campus as this year's Commencement speaker," said MWCC President Daniel M. Asquino. "Her passion and ongoing work for justice for residents across the state aligns with our ongoing commitment to civic learning and fostering community engagement among our students. AG Healey is an outstanding example of how this year's graduates can continue to be active members of their communities and greater society as they transition out of their time here at Mount Wachusett Community College."
"I'm honored that President Asquino has invited me to speak at Mount Wachusett Community College's Commencement this spring," said AG Healey. "MWCC has a rich legacy spanning over 50 years as a school that prepares young adults to lead a life focused on serving a community that's bigger than themselves. As your Attorney General, I'm proud to be speaking at a school that places such high value on ensuring that its graduates give back to their communities."
Healey was sworn in as Attorney General on January 21, 2015. Since taking office, she has tackled issues touching the lives of residents across Massachusetts including the heroin and prescription drug abuse epidemic, escalating health care costs, workers' rights and student loan costs. She has focused on strengthening consumer protections and on improving our criminal justice system.
Prior to her election, Healey helped lead the Attorney General's Office as head of the Civil Rights Division and as Chief of the Public Protection and Business & Labor Bureaus. Healey graduated from Harvard College in 1992 and was captain of the women's basketball team. She played professional basketball in Europe before returning to Massachusetts to attend Northeastern University School of Law. Early in her career, Healey clerked for Judge David Mazzone in the United States District Court in Massachusetts. Prior to joining the Attorney General's Office in 2007, Healey was a junior partner at the international law firm Wilmer Hale (formerly Hale and Dorr), where she represented clients in the financial services, pharmaceutical, medical device, software, energy, biotechnology and professional sports sectors. She is a former Special Assistant District Attorney in Middlesex County, where she tried drug, assault, domestic violence and motor vehicle cases.