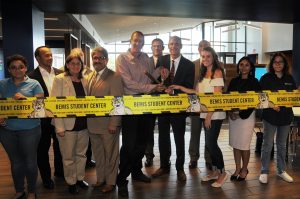 The Bemis Student Center was unveiled at Mount Wachusett Community College's Gardner Campus Wednesday, with students, faculty, staff, area guests and officials celebrating the new student space.
"I am very excited that we now have this new space that provides a place to be separate from our academic responsibilities, while remaining on campus. I know that this new space will become the new hot spot on campus for our varied student body and will help foster a sense of community. We are proud of our diverse student body and this gathering space will provide us the opportunity to intermingle," said MWCC Student Government Association President and Pathways Early Innovation School sophomore Samantha Stiles.
The dedication on Wednesday celebrated the completion of the 100-day long construction of the 4,500 square foot facility. The space creates a new epicenter of student life and activity in the heart of the Gardner campus. The student center features a lounge and meeting space, group study area, game room and televisions. In addition to indoor space, the center will open out to a green space with outdoor wifi and seating. The college has had student-dedicated spaces in the past but this will surpass them all and truly be student-centered from the outset, said MWCC President James Vander Hooven.
"The need for this space was reinforced for me during the first week of classes. I entered the cafeteria around noon and there were students literally sitting on the floor. The Bemis Student Center will provide a welcomed space for students to relax, game, study, and interact," said President Vander Hooven.
Everything about this project centered on improving students' experiences and giving them a space to pass the time between classes, socialize and build a sense of community, according to Interim Vice President of Student Affairs Jason Zelesky.
"This project has truly been a labor of love. Students, we hope you enjoy this space. Use it as your office, living room, game room, backyard and hangout. This is your campus. This is your home. Enjoy," Zelesky told students at the dedication.
Zelesky oversaw the summer project. The Bemis Student Center represents a tremendous amount of hard work and partnership, he said. Among those partnerships was a generous donation of $500,000 from the Bemis Corporation through the Bemis Community Investment Fund. Executive Vice President of Bemis Associates, Inc Scott Howard said that during his time on the MWCC Board of Trustees he saw great things happening but knew that appropriate space was a restricting factor for students.
"People are realizing that great spaces lead to great collaboration," he said. "We wanted to help create a space that would motivate and inspire people to work together … and put them in a creative space of mind so that they can come up with ideas."
Additional assistance came through the Massachusetts State College Building Authority. This is the first time that a community college has worked with the MSCBA on a building project and the college was excited for the opportunity, said Zelesky.
The student center opening was followed by Fall Fest, one of the school's main events greeting students back to campus.