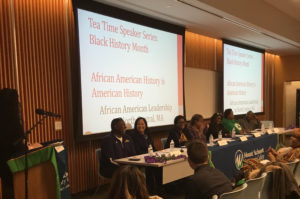 Moderator Irene Hernandez started a Black History Month panel discussion Monday by telling the diverse audience in the packed lecture room that they are all indigenous people originating from Alkebulan – the real name of Africa – here in the Americas long before Native Americans.
African-American history in the U.S. started well before slavery, going back centuries, said Ms. Hernandez, who is project coordinator at Fitchburg Community Connections Coalition. People of color living here are not displaced, she said.
"Go see 'Black Panther,' " she said. "It is not stereotypical or superficial. It talks about colonization, fatherless children, oppression, subjugation and loss of identity as displaced people."
To read the full article about MWCC's Tea Time Speaker Series' panel on African American leadership in North Central Massachusetts, visit the Telegram & Gazette website.