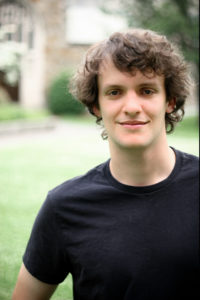 A fundraiser for Mount Wachusett Community College veteran students hosted by Andrew Mayer, a winner of the Boston Comedy Festival, will take place on Oct. 21 featuring a collection of Boston stand-up comics.
The event, Comics on a Mission II, will feature comedy from Sean Sullivan, Emily Ruskowski, and Nick Chambers. Host Andrew Mayer, encouraged people to come to the show to see this lineup.
"Sean Sullivan is a terrific local headliner, who has performed on Comedy Central, and just released his debut album on Friday. With him, Emily, Nick and me, it's going to be a lovely time," said Mayer of the show that will benefit student veterans at MWCC. "Second, the proceeds go to an excellent cause. You get to feel good from laughter, and also from doing a nice thing. "
Mayer recently tied for first place and a $10,000 cash prize at the Boston Comedy Festival, has received critical acclaim, with the Boston Globe dubbing him "seriously silly."
"There's a bit of observation, and quite a bit of whimsy, but it all comes out of just talking about my life," said Mayer who then reflected on life after winning the festival. "It's been a very fun couple of weeks since the festival, for sure. Contests have a lot of variables, most of which are out of your control as an individual, but it's always nice when one works out the way you were hoping. I've competed in the contest before, and it's always such a fun week."
Mayer got his start in comedy 13 years ago after taking a stand-up class at MWCC with his father Robert who is the Director of Veteran Services at MWCC. Mayer had been a fan of stand-up since he was a child, and started writing jokes in my freshman year away at college.
"My Dad found out, and signed us both up for the summer stand-up class at the Mount. It was taught by Jerry Caruso,who was very welcoming and helpful. The final of the class was a live-audience performance, which was my first ever show," said Mayer.
All proceeds from the performance will benefit veteran students at MWCC. According to Robert Mayer, the majority of funds will go towards technology such as laptops or graphing calculators that can be loaned out to veteran students.
The event will be held at 7 p.m. on Saturday, Oct. 21 at the Theatre at the Mount. Tickets are $25 each or $20 for students and veterans. Special pricing of $60 is available in conjunction with the MWCC Foundation's event A Tribute to Aerosmith that takes place on Oct. 27 at the Theatre at the Mount and is normally priced at $50 alone.