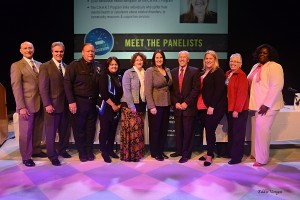 Mount Wachusett Community College welcomed over 250 guests to its Gardner campus this morning for a public forum moderated by State Senator Jennifer Flanagan to address the issues surrounding opioid addiction and abuse, a critical problem impacting too many families and communities across the Commonwealth.
The free forum, Opiates in North Central Massachusetts: Education for Community-Wide Crisis Response, took place on Monday, Oct 31 from 12 to 2:30 p.m. with a breakout session for dialogue and NARCAN® training following the panel forum.
Panelists included Fitchburg Police Chief Ernest Martineau; Michelle Dunn, Founder/President of the A.E.D. Foundation, Inc. and co-director and president of Alyssa's Place; Jack Maroney, CEO of Recovery Centers of America at Westminster; Tamara E. Perini, MSW, LCSW UMass Memorial – HealthAlliance Hospital and the Worcester County District Attorney's Office; Daisy Bacener, Chief Probation Officer for the City of Fitchburg; District Attorney Joseph D. Early, Jr., Office of Worcester County District; and Dr. Diane Power M.D. OB/GYN UMass Memorial – HealthAlliance Hospital.
The panelists discussed the multi-generational aspects of opioid addiction, the coping skills needed by families with a loved one suffering from addiction, dealing with the crisis as a public health issue and not a criminal one, potential changes to drug prescription practices, and the value of NARCAN® as a live-saving measure.
Senator Flanagan led the panel through many other important topics including what organizations are working to solve the issues, saying that community colleges are on the front line in meeting the need for services head-on with training and programs.
Senator Flanagan of Leominster has worked tirelessly on this issue during her two terms in the House of Representatives and after being elected to the Senate in 2008.  She currently serves as Chair of the Mental Health and Substance Abuse Committee and Chair of the Special Senate Committee on Opioid Addiction. Senator Flanagan was also appointed as Vice Chair of the Public Health Committee, and is a member of the Public Safety Committee and Homeland Security Committee.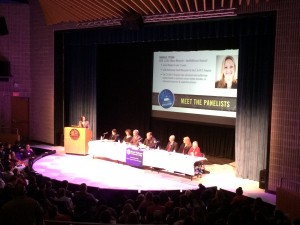 Both in the House and Senate, Senator Flanagan played critical roles in passing several key pieces of legislation relative to mental health and substance abuse. The most recent being an act to increase opportunities for long-term substance abuse recovery signed into law in 2014, which provides people with an opportunity to access treatment and an act relative to substance use prevention signed into law in 2016.
There were many positive moments in the forum, such as when Fitchburg Police Chief Ernest Martineau relayed the success story that Fitchburg Police have saved 100 lives by administering 100 NARCAN® treatments since June 2015. NARCAN® blocks the effects of opioids and can reverse an overdose.
Following the forum, Michael Ellis, Coordinator of the Men's Suicide Prevention Project, Regional Behavioral Health Collaborative, and Heywood Hospital provided free NARCAN® training for over 60 participants. The training included interactive, practical instructions for an engaged audience who asked many follow up questions.
Participants who did not opt for the training attended a dialogue facilitated by Jason Zelesky, Dean of Students at Mount Wachusett Community College. The dialogue helped participants personalize what they'd just heard in the forum, increase their understanding of this complex issue, and provided participants with the opportunity to discuss root causes to the issue as well as potential solutions.
"This is the crisis of our time," said Dr. Daniel Asquino, president of the college. "But our hope is that this will not be the crisis of tomorrow. Today's event gives us all a better sense of what we can do to combat our region's opioid epidemic by working together and increasing our understanding of the causes, early warning signs and resources available to help those in need."
The event concluded with time for attendees to meet with resource organizations including AdCare Hospital of Worcester, Inc.; The A.E.D. Foundation; American Addiction Centers; Heywood Hospital CHART Program;  Montachusett Opportunity Council, Inc.; Montachusett Suicide Prevention Task Force; Mount Wachusett Community College Admissions; Mount Wachusett Community College Gateway to College; the Office of District Attorney Joseph D. Early, Jr.; Recovery Centers of America at Westminster; the SHINE Initiative; and Spectrum Health Systems Inc.
This Tea Time Speaker Series was a recipient of the 2016 MWCC Foundation Innovation Grant and was sponsored by: Mount Wachusett Community College's Diversity Consortium; Gateway to College; the Workforce Diversity Pipeline Program which is funded through a grant from the U.S. Department of Health and Human Services' Office of Minority Health; The North Central Massachusetts Minority Coalition/Three Pyramids, Inc. This event was also sponsored by a grant from the National Endowment for the Humanities, in partnership with the American Association of Colleges & Universities, in an effort to examine Citizenship Under Siege through public forums and conversations.