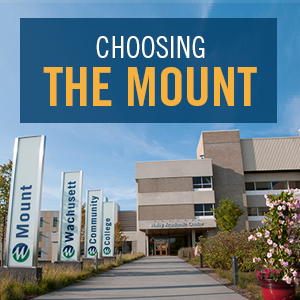 Graduates, the 2018 Commencement is a celebration of you. A celebration not only of what you have accomplished, but also for the hardships, triumphs, and experiences that have helped to make you the person that you are today.
The same celebration could be held for every single person that attended our commencement — family, friends, and faculty. Without the people that surround us, we would not have been able to achieve one of the major milestones in our lives. This educational journey has culminated with a significant accomplishment driven by not only personal commitment and determination, but with an immense sense of pride.
Being a part of the Mount Wachusett family gave me the opportunity to have the first day of a new journey, one that scares and excites me. This journey meant the start of my future, for myself as well as my family.
I started four years ago, and as I sat there during the Smart Start registration, my mind raced, thinking "how the heck am I going to be able to do this?" I hadn't been in school for almost nine years and I had three little boys at home. I also had an extremely supportive husband who believed that I could do something that I wasn't as confident about.
Fear was there staring me right in the eyes and I knew that this was not going to be easy. I knew that there were going to be obstacles along the way, and like driving along the roads in New England, I would probably miss some turns and hit some roadblocks. I would need to try as hard as possible to avoid the potholes big enough to swallow me whole. I thought, 'will it be worth it?'
You better believe it would! I figured I would start with two classes and see how it went.  I went home proud that I had taken that first step, but still maybe a little scared out of my mind. However, instead of letting my lack of confidence get in the way, I decided that I needed to keep pushing myself because I am a lot braver than I give myself credit for and how can I tell my children to work hard for their dreams if I am too scared to do the same?
So, what did I do? I went ahead and signed up for a third class.
Here's the curveball, because we all need at least one in a lifetime, right? Well, about a week later, my husband and I received the biggest surprise of our lives: we were pregnant — wait for it — with twins!
Now, any normal person would have realized how crazy it would be to be pregnant with twins while raising three little ones at home, working, and now taking on the added responsibility of being a full-time student. Apparently, I am not normal and definitely a little crazy, but I thought to myself, as easy as it would be to give up and rationalize waiting another year or so, it would be just as difficult to quit before I even started and saw what I really was capable of.
Many have asked or wondered how I attended college, completed the nursing program, worked, and raised a young family with five, yes five, little boys. Well, the secret is a LOT of sleep deprivation! That's the thing about life, nobody said it would be easy, but here I am today.
To be honest, my family was my inspiration. They made me driven and determined to be successful. I wanted to show my children that hard work, dedication, and perseverance could allow you to reach for and attain any goals in life. Boys, I hope you are listening because I did it for, and because, of you.
During our educational career, we measured our success with our grades. However, now we can all realize how successful we are, not by what our GPA is or by the grades we received, but by measuring the strength and determination we showed to get to where we wanted to be.
Graduation is a time to look back at everything we went through to be here, but also to look ahead and realize that, although life can be hard, with courage, dedication, and the support of those around you, anything in life is possible. I hope that if you take anything away from this experience, like myself, you will remember:
Have faith and believe in yourself. Now although this may seem self-explanatory, it's not easy. You may not always believe in what you are capable of, but at least try. If you can't, find someone who can remind you. Find ways to be inspired and to inspire others. Surround yourself with positivity, be your own leader and lead by that example. Whether you are the President of the United States, the CEO of a major company, a teacher, or even a parent like me showing your children that they are capable of accomplishing anything they set their mind to, make sure to show compassion, kindness, respect, integrity, and those virtues will be extended and returned.
Be proud and grateful of your accomplishments. Accept fear and know that you will make mistakes. Failure is a part of success and should be celebrated equally, for without failure, you would not know how amazing it feels to succeed. I bet it took a lot of sacrifice and drive to be here today, because I am right there with you.Sometimes it is hard to be driven, but you know what is even harder? Staying driven. Ask anybody who has struggled with something, let's say weight loss — because I have to say, college and nursing school has not been the greatest on my diet and exercise level.  We know all too well what it feels like to lose your drive, because it only takes one cheat day to throw all of your hard work out the window. That's exactly what school has done. One bad day, bad grade, or bad experience has probably made you want to give up.For those of you who do not know me, I live in CT. Some of you are probably thinking, "wow, that's a long drive," so let me reassure you, yes, yes it is! Over an hour each way for up to 4 days a week, for the past 4 years. My drive, both literally and figuratively, has been difficult. Between missing family functions, school and sports activities for my children, and countless other things in between, this has been one of the most difficult things that I have ever done.Today, knowing what I have accomplished and how proud my family is and how proud I am of myself for getting here, I know it has also been one of the most rewarding experiences.Finally…
Life is a gift, but it is not without struggles. My mom passed away suddenly when I was a freshman in high school, she was only 36 years old. She was my best friend, my biggest support, and my 14 year-old self felt as though life was impossible without her. Not a day goes by that I don't wish she was here, but I know she is in her own way, I see the signs everywhere.Through the struggles, we need to recognize the celebrations, such as my wedding day, the days my children were born, and my graduation. I know she is shining down today, proud of the woman that I have become and continue to strive to be.
So, understand and remember that life is a journey. Never forget where you came from, but always remember where you are going. Be passionate and adventurous, take a chance, reach for the stars, and start each day realizing that you never know when it is your last, so make it count. Please don't take it too seriously because, let's face it, we aren't getting out of this life alive.
Go forth into the world, educated and ready to take on any new challenges that come your way. Congratulations Class of 2018!
---
About the Author: Amanda King is a 2018 graduate with a degree in Nursing. After graduation she intends to work in the nursing field, ideally in the ER, while working towards a Master's Degree in Nursing.