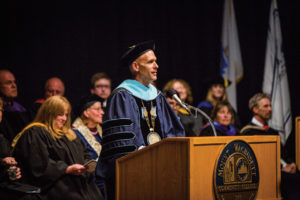 Mount Wachusett Community College invites community members to attend the inauguration of the college's third president James Vander Hooven on Wednesday, March 28.
The formal inauguration will begin at 2 p.m. on March 28 with a ceremony at MWCC's theater at the Gardner campus. The ceremony will feature student, legislative and faculty speakers in addition to Vander Hooven's formal swearing in.
"I am particularly pleased to welcome many of our legislative delegation, local business and education leaders, and personal friends to the event. It is an opportunity for us to come together as a community to demonstrate how we are working to benefit our students and the North Central Massachusetts region," he said.
The alumni remarks will be made by one of Vander Hooven's close friends Kenneth Basque who will also play the recessional music at the conclusion of the ceremony. Basque and Vander Hooven met in Colorado while they were both working in theater in the late 1990s and have been friends ever since. While Vander Hooven knew Basque was from the area, it was not until he was named president that he found out his friend had actually attended the college.
"When I discovered that he went to MWCC, I just couldn't believe it. It is such an honor for me to have him attend. I am also excited that he has agreed to perform a song at the inauguration. I can't wait," said Vander Hooven.
Basque said that he is looking forward to returning to the Mount where he studied acting. During his time at the college, he was pursuing his dreams of becoming a Hollywood actor but found something else as he participated in Theatre at the Mount in addition to classes.
"I got an education from the community itself," said Basque who continues to be involved in theatre to this day. "It helped me pursue what I'm doing today. I work constantly in theater where I direct, act and mentor children … I always credit Mount Wachusett with giving me that start."
Basque said he plans to talk about his time here at the college as well as meeting Vander Hooven while they were in Colorado. While he met him doing theater, Basque said he is not surprised that Vander Hooven's path has led him to being president at Mount Wachusett Community College.
"He is a great guy with a great sense of humor and an all around respectable guy. I'm very impressed with what he's done over the years," said Basque. "He's always been a focused person. Whatever he does he does with passion."
Immediately following the ceremony, the MWCC Foundation will host a reception and showcase of the college throughout the campus with refreshments stationed around the building. Faculty, staff and students will present the great work taking place within various programs at MWCC. The departments represented will include Art, Biotechnology & Biology, Liberal Arts, Manufacturing, Media Arts & Technology, Theatre at the Mount, and Veterinary Technology. These displays will allow people to learn more about the great programs at the college while enjoying the reception.
A presentation will also be made by a number of students who received scholarships through the MWCC Foundation, talking about the impact that support had on their education. Light refreshments will be served at stations throughout the school, encouraging visitors to move through campus and learn more about the school after congratulating President Vander Hooven. I cannot imagine a better way to convey that than to have the Foundation reception focus on demonstrating what we do for our students.
"While it may sound cliché, this inauguration is really not just about me. It is about the great work and the future of MWCC, said Vander Hooven. "I am so pleased by the response of the faculty, staff, and students to participate in the reception. This is a great opportunity to show our legislators, local education and business leaders, and guests how we work for the students."