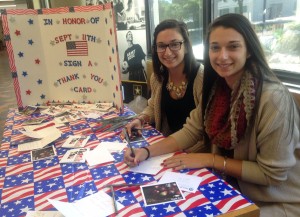 MWCC student volunteers are collecting notes of appreciation for first responders in the region who put their lives in jeopardy for the sake of others, as a way of honoring the nearly 3,000 victims of the Sept. 11, 2001 terrorist attacks.
For the second year, the activity was coordinated by the college's Center of Excellence for Veteran Student Success and the Student Leaders in Civic Engagement (SLICE) program, an initiative of MWCC's Center for Civic Learning and Community Engagement.
Volunteers provided and collected cards throughout the day on Monday, Sept 12. Cards will be available for signing at the Gardner campus on Tuesday, Sept. 13 from 10 a.m. to 2 p.m. before they are distributed. Each year, the college community also pauses to remember Carrie Beth Progen, a 1995 alumna from Ashburnham who was among the victims at the World Trade Center.
A memorial to Carrie, located adjacent to the library entrance, was created several years ago in collaboration with her parents, Don and Kathy Progen, and her brother, Matt, all alumni of MWCC. A scholarship created by the Progen family in Carrie's memory is awarded to an art student each year through the MWCC Foundation.