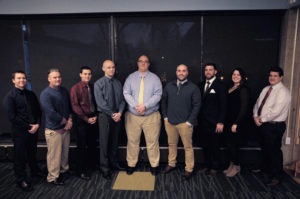 On January 9, 2020, Mount Wachusett Community College welcomed nine new Paramedics to the profession during a pinning ceremony at the Gardner campus.
Surrounded by loved ones and supporters, the inaugural class was pinned by Program Director Peter Laitinen, RN, BSN, NRP, who expressed his gratitude for the trust placed in him and MWCC by these students.
"It takes a lot to establish a program like this. Thank you for trusting MWCC and investing your time here with us," commented MWCC President James Vander Hooven. "We wish you all the very best in your future, saving lives, and being there to help us in our time of need."
The Paramedic Class 001 were Curtis Cook (Class President, Marine Veteran) Nathaniel Baldwin, Heather Butler, Kyle Daniels, Timothy Downey, Gregory Doyle (Army Veteran), Ian Hurley, Colton Mauch, and Zachary Rolfe.
Launched in 2018, the MWCC Paramedic Technology Certificate program is one of only nine such programs in the state, and the only program in North Central Massachusetts. The intensive 14 month program prepares students to take the National Registry of Emergency Medical Technician-Paramedic Certification Exam.