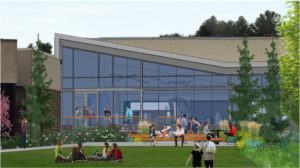 The construction of a $3.5 million student center at MWCC has kicked off with the 4,500 square foot facility set to be completed in only 100 days. The student center is being partially funded by a generous donation of $500,000 from Bemis Associates, Inc through the Bemis Community Investment Fund.
"This project will create an epicenter of student life and activity at the heart of Mount Wachusett Community College's Gardner campus," said MWCC's Dean of Students Jason Zelesky. "Our accelerated timeline creates the least disruption for our students and will have the student center operational for students as they begin their fall classes."
The new student center will be located at the heart of the campus and fill a vital role for the college's students. As commuters, said Zelesky, it is vital that students have a space to pass the time between classes, socialize and build a sense of community. This fall, they will have just that in a space that will be directly across from the cafeteria and face out to Green Street.
"The new student center will provide our students with a multipurpose space that they deserve and need," said Zelesky who explained that the college has had student-dedicated spaces in the past but this will surpass them all and truly be student-centered from the outset. "We are so excited to be able to provide a comfortable social space that will be the center of campus life and student activities."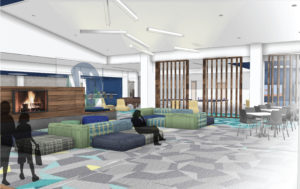 The goal was to create a versatile space where students can relax, hang out and socialize. The student center will feature a lounge and meeting space, group study area, game room and televisions. In addition to indoor space, the center will open out to a green space with outdoor wifi and seating.
Site work for the student center began the day after MWCC's Commencement with demolition beginning before the Memorial Day weekend.
The center is being built through a partnership with the Massachusetts State College Building Authority. This is the first time that a community college has worked with the MSCBA on a building project and the college is excited about the partnership, said Zelesky.