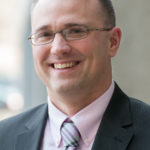 We are pleased to announce the recognition of Jason Zelesky, our Dean of Student Affairs, as the 2019 National Association of Student Personnel Administrators (NASPA) Region I Community College Professional award recipient. Award recipients in Region I were recognized during a ceremony at the NASPA Region I Conference in Providence, RI on Tuesday, November 19, 2019. MWCC Director of Veterans Affairs, Robert Mayer, was on hand to personally award Jason.
The NASPA is a member-centered association supporting a network of 15,000 professionals and 1,200 institutions across the globe. Region I encompasses the New England states and Eastern Canada as well as the United Kingdom, Belgium, France, Ireland, Netherlands, Spain, Sweden, and Switzerland.
The Community College Professional award is presented to an individual who has demonstrated leadership and a commitment to the profession, who has contributed to creating a campus environment that promotes student learning and professional development, and an outstanding individual contribution in innovative and responsive services and programs that address varied and emerging needs of students. Student affairs professionals in all positions at community colleges are eligible for this award.
"Not only is it a privilege and honor to work with Jason, it is incredible how much I learn from him," stated Dr. Paul Hernandez, MWCC Vice President of Academic & Student Affairs. "As a college, we are lucky to have him; our students truly benefit from having a champion like Jason."
As the Regional award recipient, Jason will be submitted as a candidate for the National Community College Professional Award. The NASPA National awards will be presented in Austin, TX at the National Convention in March 2020.