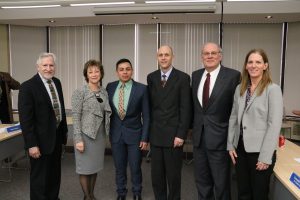 The Massachusetts Board of Higher Education (BHE) voted Tuesday to approve Dr. James Vander Hooven as the third president of Mount Wachusett Community College since the school was founded in 1963.
The vote took place at a special meeting in Boston, with members of the board speaking to Dr. Vander Hooven's experience and commitment to accessible higher education.
"I look forward to working with Dr. Vander Hooven, a thoughtful, reflective leader who brings a strong background in fundraising and a proven track record of building community relationships," said Carlos E. Santiago, Commissioner of Higher Education. "I believe the breadth of his past experience in classroom and administrative roles will serve Mount Wachusett well, and I am pleased to see the value he places on student diversity."
The vote followed a recommendation by the Mount Wachusett Community College Board of Trustees in December to approve Dr. James Vander Hooven as the college's next leader. Current President Daniel M. Asquino, who announced his retirement last year, will remain at the college through a transition period with the new president, who will begin his official duties as president March 19, 2017.
"I am looking forward to working with Dr. Vander Hooven during this transition," said President Daniel M. Asquino.  "We are fortunate to have the support and engagement of so many community partners," said Asquino. "I look forward to introducing Dr. Vander Hooven to the region and our partners as well as the outstanding faculty, staff and students at Mount Wachusett Community College, so that he is ready to hit the ground running."
This robust transition will allow for campus and community conversations with President Asquino and incoming President Dr. Vander Hooven and a thorough review of the college's history, partnerships and strategic direction for the future.
"I know I have big shoes to fill, but with the support of the students, faculty, staff and the greater community I know we can do great things together," Dr. Vander Hooven said to the Board of Higher Education Tuesday morning before the unanimous vote. Dr. Vander Hooven thanked the Board of Higher Education, the MWCC Board of Trustees and the MWCC Presidential Search Committee for the process. "Through that process, I learned so much about the students, staff, faculty, business leaders, local government and the greater community and by the end of the process I was even more energized and convinced that this community has incredibly strong support for this community college," added Dr. Vander Hooven.
"President Asquino has been an incredible leader and community partner," said MWCC Board of Trustees Chair Tina Sbrega. "We will miss him tremendously and are delighted that he has agreed to remain on to ensure a smooth transition to Dr. Vander Hooven's leadership. We are all looking forward to working with him and are impressed with Dr. Vander Hooven's experience, his innovative spirit and commitment to community partnerships," added Sbrega.
Dr. Vander Hooven has been committed to access and opportunity to higher education since first stepping into a nontraditional classroom, as an instructor, where he was the youngest person in the group. At that point, he began focusing his energy and time on increasing opportunities for students of all ages and backgrounds.
As the president of Tohono O'odham Community College in Tucson, Arizona, Dr. Vander Hooven successfully raised more than $9 million for the construction of the college's new main campus. He has also served as Vice President of Student Affairs and Enrollment Management at Lakes Region Community College in Laconia, New Hampshire, and Regional Dean of Academic and Student Affairs at National American University in Denver, Colorado.
Most recently, Dr. Vander Hooven served as the Vice President for Enrollment Management at Landmark College in Putney, Vermont. In this role, he was the College's chief enrollment officer, managed recruitment activities, enrollment and admissions processes, and administered the Office of Financial Aid. He also oversaw the Office of Transfer, Career, and Internship Services.
The breadth of his experience gives him a keen understanding of the challenges and opportunities of educational leadership. He is dedicated to building strong teams designed to achieve important goals and improve student outcomes.
Dr. Vander Hooven attained his Bachelor of Arts degree in English from The Ohio State University. He received his Master of Arts degree in American Studies from the University of Wyoming. In 2009, he was awarded his Doctorate in Higher Education Leadership from the University of Maine, where he focused on student access. His dissertation was titled, "Lessons From Success: The Experience of Women Who Successfully Completed an Associate Degree While Parenting Children."
He lives in Keene, New Hampshire.