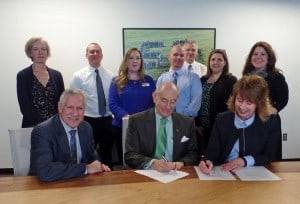 MWCC is marking the 10th anniversary of its dual enrollment partnership programs for teenagers and young adults.
The Pathways Early College Innovation School and the Gateway to College program, run in partnership with the Ralph C. Mahar Regional School District, allow students to complete requirements for their high school diploma while also earning credits toward a college degree. School choice funding covers the cost of tuition and fees of both programs.
Information sessions for each program will take place this spring and summer for fall 2016 enrollment.
"The partnership is so impactful for students whether they are in the Pathways program or Gateway program." said Mahar Superintendent Tari Thomas, who recently joined MWCC President Daniel M. Asquino in signing the memorandum of understanding between the two schools for the upcoming academic year. "Many are first generation college students. For them to be so embraced by this community college, to work with them to grow and achieve, I'm so grateful. And it's not just for Mahar kids, but for kids all over the state. The way these academic programs meet individuals needs is profound."
One of the first two innovation schools created in Massachusetts, the Pathways Early College Innovation School provides motivated high school juniors and home schooled students the opportunity to accelerate the pace of their academic careers by simultaneously earning an associate degree and their high school diploma.
To be eligible for Pathways, students must live in Massachusetts, possess a minimum high school grade point average of 3.0, be at least 16 years old and entering grade 11 by the start of the fall semester, and be recommended by the sending school.
Students must attend a Pathways information session and have current Accuplacer scores in order to apply. Upcoming information sessions for the Pathways school will take place on May 10 and 12; June 14 and 16; and July 12 and 14. The first day of each session provides the information about the school, and the second day of each session includes the Accuplacer test.
MWCC's Gateway to College program, established in 2005 as the first Gateway site in New England, provides a second chance for students ages 16 to 21 who have dropped out of high school or are at risk of dropping out. Students simultaneously earn their high school diploma as well as college credits toward an academic degree or certificate. The majority of the graduates continue their education at MWCC or at another college or university.
Gateway applicants must attend a two-day information session to be considered for the program. Upcoming Gateway information sessions will take place on May 11 and 13; June 15 and 17; July 20 and 22; Aug 3 and 5; and August 10 and 12.
To register for an upcoming information session in either program, contact MWCC's Division of Access & Transition at 978-630-9248. Visit mwcc.edu/access for more details about the programs.