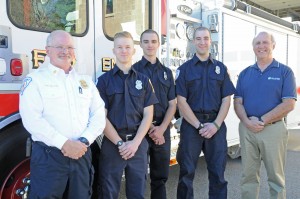 Three Mount Wachusett Community College students are receiving hands-on training as on-call firefighters with the Lunenburg Fire Department while pursuing their college degree in Fire Science Technology.Tyler Pelkey, 20, of Lunenburg, Skyler Kozloski, 20, of Fitchburg, and Benjamin Boudreau, 19, of Leominster, all certified Emergency Medical Technicians, have spent the past year serving overnight shifts at the fire station as part of the unique "live-in" component of MWCC's associate degree program.
Concurrent with their academic training and experience with the department, the trio completed 240 hours of training over the past four months with the Massachusetts Firefighting Academy's Call/Volunteer Training Program. They graduated on Nov. 5, and are now fully appointed members of the Lunenburg department as on call firefighters.
"Lunenburg has been an outstanding host of this program and has supported us throughout the Fire Science Technology program," said MWCC program coordinator Fred LeBlanc, a former chief of the Leominster Fire Department.
MWCC's Fire Science program is based on a model curriculum established by the National Fire Academy. This model establishes a Fire and Emergency Services Higher Education (FESHE) network of emergency services related to education and training providers. The national model provides an integrated, competency-based system of fire and emergency services professional development. The FESHE curriculum is transferable toward a bachelor's degree, and the National Fire Academy also issues certificates to students completing the core courses of the associate degree.
The Massachusetts Firefighting Academy training applies toward the college degree as a three-credit college course, Principles of Emergency Services, and also provides 25 of the 40 continuing education hours that EMTs need to complete every two years as part of their certification, LeBlanc said.
All three students have aspired to work as firefighters since childhood, and expressed gratitude for the Lunenburg Fire Department and MWCC for the opportunities presented through the partnership.
Pelkey will earn his associate degree in December and plans to transfer his credits toward a bachelor's degree. He is following in the footsteps of his father, who was a firefighter in the Air Force and in Concord, Mass.
Kozloski was inspired to become a firefighter after watching the film "Ladder 49," and Boudreau made his career choice after shadowing members of the Leominster Fire Department. "I like to help out. I can't really seeing myself doing anything other than that," he said of his chosen profession.
Fire Chief Patrick Sullivan praised the academic program and its live-in component. "I wish they had this when I was going to school. This program has worked out very well for us and it has worked out well for them because it gives them experience, training and a foot in the door. The training and experience they have gained will serve them well as they move on in their fire service careers."
The program covers a wide range of topics necessary for today's professionals, from medical emergencies to hazardous materials and recognizing potential public safety threats. Students can opt in to the live-in component of MWCC's academic program. It is not a requirement of the degree, but helps make the graduates much more marketable when searching for a job, Sullivan said.
"In the last 20 to 30 years the job has become much more technical.  Years ago, most people thought all you needed to be a firefighter was a strong back and a lot of bravery." Sullivan said.
"Those traits are still needed today, but there is so much more to the job.  We still use the term fire department out of tradition, but it is more of an all-hazard response agency. We deal with fires, medical emergencies , hazardous materials as well as specialized rescue situations, code enforcement and safety education. The old saying "When all else fails, call the Fire Department" still applies today."