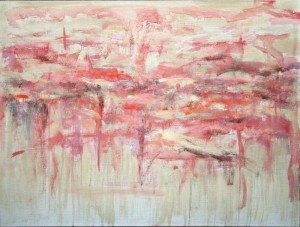 An exhibition of recent abstract paintings by Mount Wachusett Community College Professor John Pacheco is on display in the college's East Wing Gallery through October 4.
Pacheco's work is influenced by abstract expressionists and artists that saw spiritualism in the process of painting and the contemplation of color and abstraction.
"Painting abstractly, I can compose using color in ways that my previous attachment to figuration wouldn't permit. The paintings exist like a piece of music – evocative rather than specific," Pacheco said about the collection. Titles, such as "Caveman," "Day at the Beach," "Resurrection" and "Koi Pond" compensate for the lack of narrative, he said.
Born in Cambridge in 1949, Pacheco earned his MFA in painting from Boston University and a BA from Yale College for studio art. He began his career at MWCC in 1980 and served as Director of the East Wing Gallery from 2004 to 2015. He retired from full-time teaching in 2015, and continues to teach at MWCC as an adjunct instructor.
MWCC's art department offers art majors and non-majors a comprehensive program that includes painting, drawing, sculpture, ceramics and printmaking. Faculty, all of whom are working professional artists, actively assist students with developing transfer portfolios, college applications and scholarships, and teach basic digital tools required for success. Small classes lead to a close-knit, active and inspired community.
The associate degree in art is a cost effective way to begin a college degree and prepares an art major for transfer to four-year programs at colleges and universities, said Department Chair Thomas Matsuda. Graduates have successfully transferred to Massachusetts College of Art and Design, University of Massachusetts, School of the Museum of Fine Arts, Montserrat College of Art, Maine College of Art, Boston University, Pratt Institute, and others.
The associate degree in art includes the core general requirements for state programs giving the flexibility to transfer into other degrees, and by substituting designated courses it will align with MassTransfer. The college also offers a liberal arts degree with an art concentration that allows students to minor in art.
Comprehensive studios include large gas and electric kilns and an outdoor ceramic firing area, bronze casting, and printing presses. Just outside the studios is the East Wing Gallery. which hosts annual student exhibitions, alumni and professional art exhibitions and houses the permanent collection of student work purchased by the college.
A student organized art club raises funds or trips to local galleries, museums and an annual bus trip to New York City. Students gain practical experience in their field through service learning and volunteer opportunities.
MWCC's art department is an integral part of the college and community, offering free gallery talks, an artist lectures series, open figure drawing sessions, art student lectures, high school art teacher workshops and a summer youth art program. Gallery hours are Monday through Friday from 8 a.m. to 5 p.m.