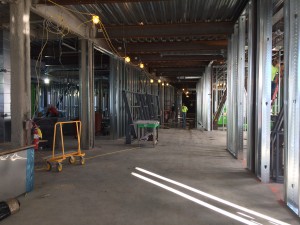 Late last week, staff and faculty were given a preview of what's to come with walk-through tours of the ongoing renovations and new wing construction.
While the STEM wing remains an active construction job site, one can begin to imagine what the final finished building will look and feel like, with towering glass walls, large open hallways, new labs and faculty offices, and student study spaces on all floors. Construction includes two new bathrooms on the main floor, a hot topic around campus for both students and faculty.
In the existing Haley building, renovation is also well underway. The front entrance is getting a complete face lift including de-icing walkways and glass entrance ways. Existing bathrooms are gutted and in the process of expansion. The new multi-purpose room is bigger than we imagined and will likely be the new locale for interactive demonstration, campus events, and student life activities. A glass front for a brand new Advising Center is yet to be installed, but the access from exterior entrances will make this a new central hub of the Haley building.
Not to be missed, the theatre wing renovations are also moving along swiftly. With two new entrances, expanded bathrooms, new theatre preparation spaces, and easier access for the visiting public, this theatre renovation is a game changer.
Work both inside the Haley building and in the new STEM wing continues into the winter with access to Haley areas slated for January and completion of the STEM wing for late summer 2016.