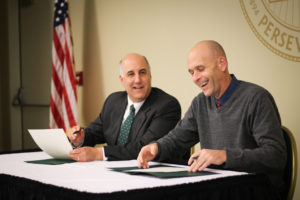 Students will have more opportunities to pursue rewarding careers in nursing thanks to a new agreement signed today by the presidents of Mount Wachusett Community College and Fitchburg State University.
The agreement, effective beginning with the fall 2018 nursing class, confirms that all students admitted to Mount Wachusett's registered nurse (RN) program will have the option of guaranteed admission to Fitchburg State's online RN to Bachelor of Science in Nursing program (pending successful degree completion and entrance examination).
Admitted students will be able to register for classes at Fitchburg State during their final semester at Mount Wachusett Community College. They will also be invited to participate in all health and nursing-related special events on the Fitchburg State campus during their RN studies at Mount Wachusett.
Agreements like this recognize the need for well-paying jobs as students complete their K through 16 education, allowing MWCC RN graduates to work as registered nurses while completing their BS in Nursing degree online. This is important as employers are increasingly looking to hire nurses with bachelor's degrees from four-year universities.
"This agreement opens doors for students and provides them a valuable roadmap toward achieving their educational and career goals," said Fitchburg State President Richard S. Lapidus. "We are grateful for the collaboration with our partners at Mount Wachusett Community College in the service of our students."
"This integrated option will help educate a new generation of nurses. With many of our graduates projected to be employed locally, this agreement with Fitchburg State University also represents a boon for the region's hospitals and medical centers," said MWCC President James Vander Hooven. "Fitchburg State University is a valuable partner and I am happy to have been able to collaborate with them on this program."
The RN program at Mount Wachusett Community College is approved by the Massachusetts Board of Nursing and accredited by the Accreditation Commission for Education in Nursing. The BS in Nursing at Fitchburg State University is accredited by the Commission on Collegiate Nursing Education (CCNE) and is approved by the Massachusetts Board of Nursing.
For more information, visit mwcc.edu/fitchburgbsn.