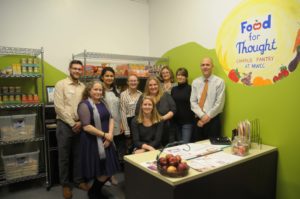 A food pantry has opened at Mount Wachusett Community College's Gardner campus as the school community seeks to address food insecurity among MWCC students.
"When we started the Food for Thought Campus Pantry project, it was very important for us that the pantry be a space in which students feel welcome and safe. Today's opening was exciting as the college and the local community have offered great support. Students shared with us their enthusiasm, gratefulness, and relief about having the campus pantry," said Southern New England Campus Compact AmeriCorps VISTA Jana Murphy who spearheaded the creation of the food pantry last year while she was a student at MWCC.
The Food for Thought Campus Pantry was created in response to food insecurity among community college students, which is becoming an increasing threat to student success, according to Murphy. Students involved with the Students Serving Our Students (SOS) program, which operates out of the Senator Stephen M. Brewer Center for Civic Learning and Community Engagement, took it upon themselves to do something about this issue by opening the food pantry. The on-campus location with student-friendly hours is a first for the college.
The Food for Thought Campus Pantry will be operated in partnership with the Gardner Community Action Committee, which will provide food items for students living in the following towns: Gardner, Templeton, Westminster, Ashburnham, and Hubbardston. SOS mentors had already been referring students to these services, which will now be available on campus.
According to Murphy, research makes clear community college students experience higher food insecurity than the rest of the population. The Wisconsin Hope Lab recently released data from their 2017 study on food insecurity and homelessness in which they surveyed over 33,000 students at 70 community colleges in 24 states. The results from the study found two out of three community college students are food insecure.
The Food for Thought Campus Pantry will operate out of room 192 at the Gardner campus Mondays and Thursdays from 10 a.m. to 2 p.m. Students who are not able to access the food pantry during these hours can contact the SOS office, with SOS mentors will be available from 8 a.m. to 5 p.m. to open the pantry on request. The food pantry is available to any student enrolled at Mount Wachusett Community College and no proof of income is required. For more information contact Jana Murphy at jmurphy49@mwcc.mass.edu.