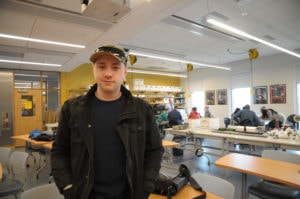 Four Mount Wachusett Community College students are set to continue their studies this fall at the Worcester Polytechnic Institute.
Joe LeBlanc, Jonathan Chernoch, Zachary Bergquist and Faith Kurtz have been accepted to WPI for the fall semester.
Joe came to the school through the STEM Starter Academy that launches students into college the summer before their first full year with two free classes and a $1,000 stipend to allow them to focus on their studies. Joe built not only his knowledge, but his confidence at MWCC.
"If I went to WPI straight out of high school I think I would have felt overwhelmed at first. Going here first allowed me to get over that," he said. "And when they came here I thought all their projects were really interesting and I wanted to be a part of that."
Jonathan said he feels ready for the next step as well.
"I feel very prepared with the material that I have learned here," said Jonathan who plans to go on to get his Ph. D. in Physics. "You can definitely transition pretty seamlessly to what they are doing there."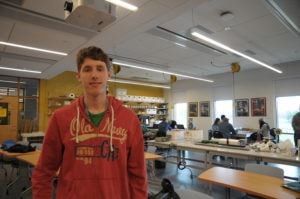 The two students were deeply involved with a budding partnership between MWCC and WPI that has been ushered in by WPI Alumnus and MWCC Assistant Professor of Math and Physics Peter Olszak. Over the past three years, he has been working to connect MWCC students with the Worcester school, bringing current WPI students in for presentations and instilling in MWCC students that their education at the college prepares them to go anywhere.
Joe, of Westminster, took part in one of those labs and said that seeing the culture of WPI up close was as helpful as realizing that he could handle the technical aspects of what the students at WPI were tackling.
"Seeing what I would be doing there first hand allowed me to finalize my decision," said Joe who volunteered in a lab at WPI. "I began to feel like I was a part of WPI and that really helped me finalize my decision."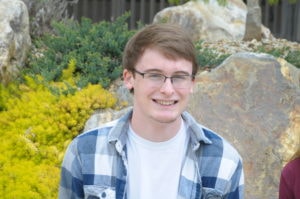 The two other students set to transfer to WPI, Zachary Bergquist (from Athol) and Faith Kurtz (from Holden), will be graduating this week not only with their Associate's Degree but also their high school diploma through the Pathways Early College Innovation School that is operated out of MWCC's Gardner campus. This program gives students the opportunity to earn their high school diploma and an Associate degree while completing their junior and senior year taking courses at MWCC.
Zachary said that this program has allowed him to get an immersive college experience while completing high school. He said that the fast pace of Pathways at MWCC, which included accelerated classes that met very frequently but for a short period of time, has prepared him for the kind of studying he expects to encounter during his time at WPI, which has seven week course lengths.
"I would rather have that fast pace without a lot of courses together so that you can focus on getting the most quality work you can," said Zachary who wants to launch an innovative hardware company after he graduates. "I think there is a way to make it a lot more accessible and economical to get technology out to working people earlier."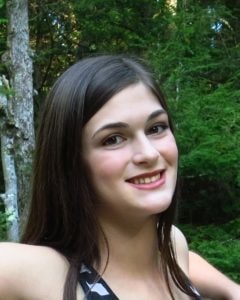 Also a Pathways student, Faith has been accepted to attend WPI this fall to study Electrical Engineering. As part of her application, she created an original dual-action hand pump design that was reviewed and refined with an engineer at Massachusetts Water Resources Authority. Upon coming to MWCC, Faith threw herself into the community and logged over 200 volunteer hours in her first six months; embracing the motto that you won't start succeeding until you start doing. She hopes to continue giving back to her community through engineering after finishing her studies at WPI.
"With a career in engineering, my goal would not only be to support myself, but to improve as many people's lives as possible along the way. I hope to use creative problem solving to meet the needs of my community and approach projects with compassion so that the solutions they create serve those who need them most," Faith said. "My dream job is to design inventions which will improve the lives of others."
All four students will be participating in MWCC's Commencement Wednesday where 751 degrees and certificates will be awarded to 717 students. In addition to their degrees, these students will receive words of wisdom and encouragement from Massachusetts Attorney General Maura Healey who will be the college's Commencement Speaker this year.