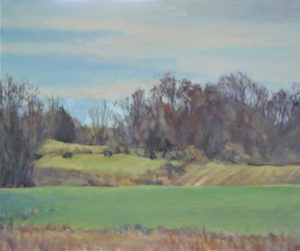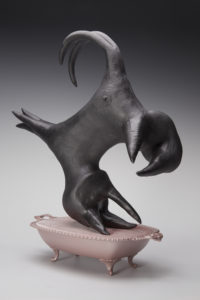 GARDNER—The East Wing Gallery in the Raymond LaFontaine Fine Arts Center at Mount Wachusett Community College is hosting two exhibits featuring the work of Massachusetts-based artists Maryanne Benns and Karen Evans.
Karen Evans' paintings will be on display through September 25, 2019. She is inspired by the season and weather in painting her landscapes. "I am interested in the way reflected light can define, dissolve, reshape and unify a space," said Evans. "Rather than painting 'the thing,' as people might think, I paint the light on the thing. Focusing on the light lets me explore new forms and visual pathways in otherwise familiar scenes."
Maryanne Benns' sculpture will be on display through October 26, 2019. The Massachusetts-based sculptor said of her work, "After two decades of working with it, I am still amazed at how the humblest of materials, earth and water, can transform into such varying forms from basic functional works to delicate fine art pieces."  Benns said her work reflects her respect and love of nature and that, "I do find inspiration in many things and will use my art as a way to communicate what is hard to put into words." Both exhibits are free and open to the public.