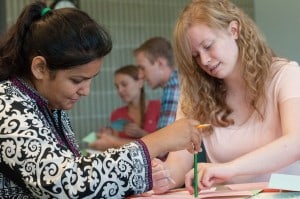 Aspiring scientists, engineers and mathematicians interested in high tech careers are invited to attend Mount Wachusett Community College's third annual STEM Awareness Day on Friday, March 4 from 8 a.m. to 1 p.m.
Activities include an experiment capturing DNA, a hard hat tour of MWCC's new STEM building and presentations on fire science technology and healthcare careers. A free lunch is provided.
The half-day program showcases Mount Wachusett's STEM Starter Academy, which is offered through a grant from the Massachusetts Department of Higher Education. MWCC is recruiting 30 students for the summer academy, which provides two free college courses, textbooks, up to $1,200 in stipends, academic support and tutoring. Participants also attend industry field trips and MWCC's Summer Leadership Academy.
Now in its third year at MWCC, the STEM Starter Academy aims to inform, engage, recruit, retain and graduate students and provide pathways that lead to job placements or transfer to higher level STEM programs.
The seven-week academy is open to recent high school and home school graduates and adult learners who place into English Composition and Intermediate Algebra or higher, and enroll in one of MWCC's STEM programs in the fall 2016 semester. Qualifying STEM majors include interdisciplinary studies – allied health, medical laboratory technology, natural resources, physics, pre-engineering. pre-pharmacy, analytical lab and quality systems, biology, biotechnology, chemistry, computer information systems, exercise and sports science and fire science technology.
The summer academy runs weekdays from 9 a.m. to 3 p.m., July 5 to Aug. 18 at MWCC's Gardner campus. Students will also participate in the college's 12th Annual Summer Leadership Academy on Aug. 23 and Aug 24.
"We are excited to once again offer the STEM Starter Academy to local learners pursuing a degree in STEM fields," said Veronica Guay, Assistant Dean of the School of Business, Science, Technology and Mathematics. "Summer participants will enter the fall semester with seven college credits, money in their pockets and be well on their way to obtaining their degree."
Computer Information Systems major Marissa Pitisci of Barre, who participated in the academy last summer, said the program helped her become "a well-rounded student" by providing fast-paced, rigorous courses, volunteer experience, time management skills, and an opportunity to meet and work with like-minded peers.
"The educational field trips to Harvard Medical School, Abbvie Labs in Worcester, and the Museum of Science in Boston were a unique way to show some of the many possibilities you have with a STEM degree," said Pitisci, who was inducted into the Alpha Beta Gamma and Phi Theta Kappa international honor societies this past fall.
"The interesting lectures from professors, doctors and scientists reassured us that not knowing what direction you want to go in is perfectly fine. We talked about some unique career paths for everyone to consider."
In addition, to the STEM Starter Academy, STEM majors at MWCC may qualify for an annual $3,300 STEM SET scholarship, available through a grant the college received from the National Science Foundation.
For more information visit mwcc.edu/takeiton or contact the admissions office at 978-630-9110 or admissions@mwcc.mass.edu.