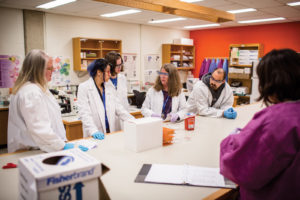 High school students who are aspiring scientists, engineers and mathematicians interested in high tech careers are invited to attend Mount Wachusett Community College's fourth annual STEM Awareness Day on Friday, March 2 from 8 a.m. to 1:30 p.m.
"This is a great opportunity for students to explore potential careers in STEM fields through hands-on activities. We have expanded the workshops this year by adding horticulture and veterinary technology.  Participants will tour the new state-of-the-art greenhouse and the new Veterinary Technology Room. An additional bonus is that this counts as a college visit. Students are able to attend with the approval of their high school and not impact their attendance," said MWCC's Assistant Dean of the School of Business, Science, Technology and Mathematics Veronica Guay.
Activities include creating and launching miniature rockets, an experiment that explores a student's own DNA, a veterinary technology workshop, and presentations on horticulture and healthcare careers. A free lunch is provided. However, space is limited to 95 spots so students are encouraged to sign up as soon as possible.
The half-day program showcases just some of the exciting science and technology avenues available at MWCC.
"Mount Wachusett is a great place to begin your STEM education whether you're enrolling in a career program or you are planning on transferring after graduation. The majority of MWCC's Science Pathways are part of the Commonwealth Commitment Program, which offers big savings on bachelor's degrees.," said Guay.
Students who are interested in extending their STEM experience past the half-day program can participate this summer in Mount Wachusett's STEM Starter Academy, which is offered through a grant from the Massachusetts Department of Higher Education. MWCC is recruiting 30 students for the summer academy, which provides two free college courses, textbooks, up to $1,000 in stipends, academic support and tutoring. Participants also attend industry field trips and MWCC's Summer Leadership Academy.
In addition, to the STEM Starter Academy, STEM majors at MWCC may qualify for an annual $3,300 STEM SET scholarship, available through a grant the college received from the National Science Foundation.
For more information on STEM Awareness Day visit mwcc.edu/takeiton or contact the admissions office at 978-630-9110 or admissions@mwcc.mass.edu.