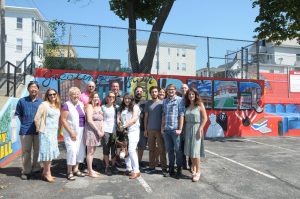 A mural depicting local landmarks and welcoming visitors to the city was unveiled recently after a summer of hard work by a group of Mount Wachusett Community College Art Students.
"Thank you to the students and everyone else that has been involved with this," said MWCC President James Vander Hooven at the unveiling on August 9. "It's really remarkable and beautiful work."
The mural spanning the entire back wall of the downtown West Street Parking Lot was completed over the summer by a group of nine MWCC students and alumni. The project displays different Gardner landmarks including Dunn Pond, City Hall, and the famous Gardner Chair. Also included in the project was the painting of electric boxes at traffic lights throughout the city. The project followed another mural completed two years ago by MWCC students at Jackson Park in Gardner.
"This is beautifying Gardner. Public art is beautiful and it brightens up otherwise not so beautiful areas," said Gardner Mayor Mark Hawke who explained this would not be the last project between MWCC's art department and students and the city. "You can see people are already enjoying this… it is great work. Thank you all. And thank you Mr. President for allowing us to collaborate once again."
The project was also a growth experience for the students and alumni who participated. In addition to the artistic expression that takes place in public art, there is a huge amount of work that goes into logistics, said Kayla Romeau who coordinated the project with MWCC Alumnus Ben Mikels.
"It was exciting to be out there being able to do our artwork but it is great to know that the community is this accepting of it," she said explaining that neighbors would come check on the work and commend the artists on the effort.
MWCC Art Professor Tom Matsuda commended the students on all their hard work.
"I was so impressed by the efforts they put in this summer. They were texting each other. I was on the text list and there was text after text… it was so amazing to see the effort they put into this," said Matsuda. "This was all made possible by our students. It is so great to see all the artwork around the city of Gardner and see that artwork bloom."
The project was a follow up to the mural created at Jackson Park. Like that project, this was a collaboration between the city and college, with the artists not only getting the exposure of completing a public piece of art but receiving a $200 stipend for their efforts.