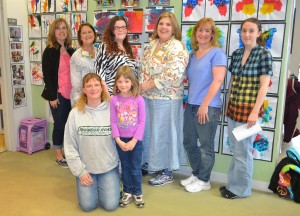 For the ninth consecutive year, Mount Wachusett Community College's Early Childhood Education Department, MOC Head Start, students, teachers and most importantly, preschool children, have adorned the Garrison Center for Early Childhood Education with creations in celebration of the annual Week of the Young Child.
This year, the exhibit combined art, science, technology, engineering and math (STEM) and Henry David Thoreau's Walden, to tie in with the MWCC's Humanities Initiative focused on the writer and naturalist.
To date, MWCC students have completed a combined 300 hours of service learning to make the event a success. Guests visited the center throughout the day on April 14, and were amazed at the imagination, ingenuity and creativity that children's art represents. In the afternoon and evening parents, grandparents, friends and important others joined the children for an open house with Early Childhood students supporting the teachers and offering guided tours of the artwork. Additionally, accepted students in Early Childhood and Elementary Education were invited to join the festivities and learn more about the academic program.
"It certainly is a tremendous amount of work for all those involved, but when we have the opportunity to see the joy on the faces of our youngest members and hear them explain complicated pieces in the simplest of terms to those around them, we know why we are passionate about our art show," said ECE Professor Maureen Provost.
"At the end of the day it is about the children, their families and their lives. I am thrilled to be part of their journey and excited to see what their futures hold. Thank you to anyone who was a part of this experience!"
This year's event was sponsored by: the MWCC Early Childhood Education Department; children and teachers at the Garrison Center; MOC Childcare and Head Start Services; the Early Childcare Education Club; service learning students from Early Childhood and Elementary Education; the MWCC Humanities Project, funded through a grant from the National Endowment for the Humanities; and MWCC's Center for Civic Learning and Community Engagement.
"If you have built castles in the air, your work need not be lost; that is where they should be. Now put the foundations under them." Henry David Thoreau