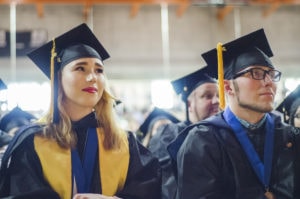 The Gateway to College program at Mount Wachusett Community College that allows students who have dropped out of high school to complete their high school degree while getting college credit is accepting students for the coming school year.
"Any student who's thinking about Gateway or any sort of dual enrollment program, I say do it. Go for it. You can lose nothing from it and you have everything to gain," said Eden Shaveet, the 2017 MWCC Gateway to College Valedictorian.
Shaveet left traditional school at the age of 14 and never thought she was going to get her high school diploma let alone her Associate degree, which she earned through the program. Shaveet reclaimed her education at the Gateway to College program. She excelled academically and socially, becoming extremely involved on campus. She will be attending Elms College in the fall to pursue her baccalaureate degree.
"The Mount is inherently designed to include people. It's a school that's intended to help you fit in," said Shaveet.
Gateway to College is a free program for Massachusetts high school students allowing them to earn college credits while getting a high school diploma. The program provides motivated students a fresh chance to achieve academic success while getting a jumpstart on college.
Students simultaneously earn a high school diploma through Ralph C. Mahar High School while earning free college credits toward an Associate degree or certificate at Mount Wachusett Community College. All classes take place on the Mount Wachusett Community College campuses.
The program is designed to meet the needs of students who have not earned a high school diploma, currently enrolled students, GED/HiSET recipients, home schooled students and students who left high school prior to graduating. Students must be at least 16 and no older than 21.
Gateway to College is a scholarship program. The scholarship pays for college tuition, fees, and first semester books, in addition to remaining textbooks throughout the program as long as a student maintains a semester GPA of 3.0 or higher. More information is available at https://mwcc.edu/access/programs/gateway/ and an information session featuring conversations with recent graduates will take place on July 12 from 3 to 5 p.m. Enrollment sessions will be held on July 19 and August 2.