It's likely you're reading this because you are considering a career in biotechnology — or you're at least curious about one.  Let's start with some great news: the number of jobs in the field of biotechnology is growing fast, at a rate of 12% per year in the state of Massachusetts (and 10% nationwide).
And, if you're a resident of the Bay State, there's even more great news: you're living in the state with the highest median salary for biological technicians and the highest concentration of jobs for biological technicians, according to the Bureau of Labor Statistics. Believe it or not, about 5,560 people work as biological technicians in Massachusetts. So, if you're a Mass resident who is interested in biotechnology, you're lucky enough to be in the right place at the right time.
What is Biotechnology?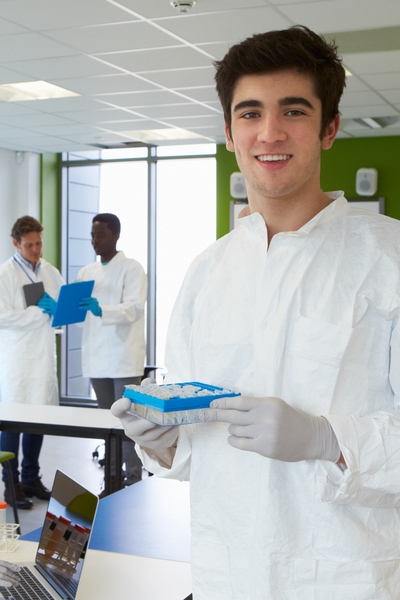 You may have heard of one of the first breakthroughs in biopharmaceuticals — the development of the polio vaccine in 1955. Today, the majority of new medicines for cancer, diabetes, HIV/AIDS, multiple sclerosis, rheumatoid arthritis, osteoporosis, and many other diseases are developed or manufactured using biotechnology.
Biotechnology is an application of biological science that uses living systems and organisms to make useful products. The biopharmaceutical process genetically engineers the DNA of a living cell to produce a protein that is then used as a medicine.
What Does a Biology Technician Do?
The biopharmaceutical manufacturing process requires a high level of monitoring and testing throughout the production process to ensure the quality of the final medicine (to ensure the medicine is safe and effective). Biological technicians who work for pharmaceutical companies typically monitor production processes to help ensure that products are not contaminated.
Where Can You Find an Affordable Degree in Biotechnology in Massachusetts?
Take a look at your local community college. If you start at a community college, you will likely save thousands of dollars on the cost of tuition compared to students who spent all four years at a university. This will make a big difference when it's time to repay your financial aid loans. In addition, your accredited associate degree will permit you to find a job as a biology technician while you work your way through your bachelor's program. Check out:
About the Biotechnology Major at Mount Wachusett Community College
At Mount Wachusett Community College, our A.S. Biotechnology prepares you to use genetic engineering to make biopharmaceuticals. You'll learn the underlying science as well as the lab skills you'll need to work as a biology technician. You'll take interesting classes like Introduction to Biotechnology, Organic Chemistry, Microbiology, Cell Culture Techniques, and Genetics.
Yes, You Can Afford Your Bachelor's Degree in Biotechnology
With an associate degree in biotechnology, you'll already be qualified to work for a biotech company. Since biological technicians earn a median salary of $61,790, you'll likely be in a good position to pay off your bills, including your student debt.  There are many options for bachelor's degree programs in Massachusetts, including:
Feeling inspired yet?
You can find out even more by talking to a counselor in the Admissions office at Mount Wachusett Community College. If you're interested, call 978-630-9110 or book an appointment.
The following websites were the sources of information for this post: