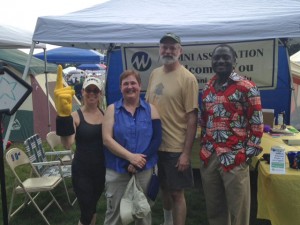 MWCC alumni, students, faculty and staff again joined thousands of volunteers for the annual Greater Gardner Relay for Life, a two-day, North Central Massachusetts outpouring of support and hope for cancer victims and survivors, and a community remembrance of loved ones who have passed.
The Mount Walkers, represented by faculty and staff and their families, the MWCC Alumni Network, the Veterans Success Center, and the MWCC nursing program were among the college teams participating in the event, held June 12 and 13 on the track of the Gardner campus to support the American Cancer Society.
The largest relay event in New England has been hosted by MWCC for two decades, although each year provides an opportunity to share something new with the community. This year, MWCC alumni Marianne and Mark Geoffroy inspired a dedicated "alumni lap" lap around the track, allowing participants to show their support for the fight against cancer and their MWCC pride.
"We really wanted people to get an idea just how strong we really are," said Mark, an eighth-grade science teacher who was recently elected president of the MWCC Alumni Network. "You scratch the surface and everybody has a story about the Mount. Somehow the Mount did something to change their lives. That was true for Marianne and me 35 years ago, and it's still true today."
The couple met at the college in the mid-1970s, and have remained part of the college community ever since.
Marianne, a 14-year cancer survivor who majored in public communications while at MWCC, works as a web applications manager for a medical device company that matches employees' charitable contributions. The alumni team was established last year by the board and Assistant Director of Alumni Relations Carol Jacobson.