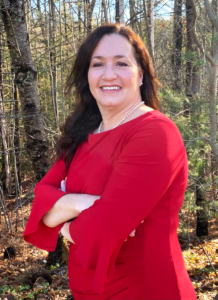 Kimberly Shea, DNP, Dean of Nursing at Mount Wachusett Community College was appointed to the Massachusetts Commission on the Status of Women (MCSW). The MCSW works to promote rights for women and girls by offering recommendations regarding policy that help improve access and equal opportunity.
Dean Shea will offer unique insights to the Commission based on her experiences as a Registered Nurse and a Higher Education Professional. Her voice will also be representative for girls and women living in North Central Massachusetts, which is an underrepresented geographical area for the MCSW.
A Winchendon native, Dean Shea received her Associate of Science Degree from Mount Wachusett Community College, Bachelor of Science and Master of Science Degrees at Drexel University, and her Doctor of Nursing Practice at Regis College.
Dean Shea understands how difficult it can be for a woman to further her education, especially with young children at home. When she first started attending school at Mount Wachusett Community College her children were one, two and three. It was difficult to balance her schoolwork while managing to maintain her regular life.
"It was a lot having three little children, a house, bills, obligations," Dean Shea adds…"I was very fortunate to have a good support network. When I was going through nursing school, I made really close friends that I am still friends with today. We really relied and depended on each other. I sometimes brought my kids to study groups with some of my nursing student friends. I got through it with a lot of support from friends and family."
After graduating and gaining years of clinical experience, Dean Shea started teaching at MWCC as a full-time faculty member in the Practical Nursing Program in September of 2013. She was a faculty member for seven years before becoming the Director of Nursing in 2019, the role changed to Dean of Nursing shortly after. She is also an adjunct faculty member at Massachusetts College of Pharmacy and Health Sciences teaching Transitional Research in their MSN Program, and Elms College teaching Leadership and Management in their RN-BSN Program.
Throughout the years her position has changed but her passion for helping students has not wavered. She says her favorite thing about her job is "Seeing someone first come into one of our programs having very little knowledge, not knowing how to negotiate the system, and following them all the way through to being successful and becoming graduates; to go on and become nurses and making a difference in the world. My favorite part is the student success aspect of it and knowing that somehow, I have made a difference."
When she is not making a difference at Mount Wachusett Community College, she is working towards making a difference in her community. She is in her second year serving on the Winchendon Community Action Council. She says the council is "really about community support for folks that need it." They provide support by working in food banks, setting up fundraisers, community events, and emergency situations. Having a strong sense of community is important to Shea who believes, "We are stronger together than we are separate, and we can get more things done together than we can separately."
Her focus on community made the decision to join the Massachusetts Commission on the Status of Women (MCSW) an easy one. Shea says it was "Something I was very interested in because I have lived in various towns in this area for over thirty years. I have raised my children here, I have gone to school here, I work here, and I have a lot of tight-knit relationships in the community, so it seemed to be the perfect match."
As stated on the Massachusetts Commission on the Status of Women website "The mission of the Commission is to provide a permanent, effective voice for women and girls across Massachusetts. The Commission stands for fundamental freedoms, basic human rights and the full enjoyment of life for all women and girls throughout their lives." For more information about the Commission, visit its website.