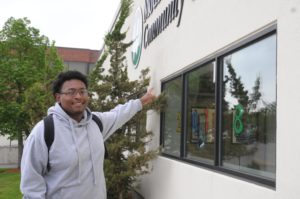 When Andre Sanchez returned to school at Mount Wachusett Community College in Leominster to earn a degree in human services, he found a school that embraced him on his schedule and soon came to feel like a second home.
"There's a lot of people who come here who have full time jobs," said Sanchez who has balanced working and school during his time at MWCC. "I saved up a little bit. I paid for my books. I had enough to pay for school… I did part-time school and full-time work."
Sanchez, who grew up in Fitchburg and still lives in the city, initially went to Fitchburg State University out of high school, but discovered in his freshman year that it wasn't the right fit. He decided to take a step back and work before returning to school. While he had worked with community organizations such as the Boys and Girls Club as a student counselor in the past and enjoyed the work, he wanted to get a feel for a full-time position.
After working for a while, Sanchez had saved up and was ready to return to school – but on his own terms. He decided to take classes and pay his way through. This is when he came to MWCC and found a school that embraced his plan with courses at different times of the day that work with each person's schedule.
"You have night classes. That's the thing I like about schools like this. It really does help people," said Sanchez. "There's a lot of people who come here who have full time jobs. Whether it's because they have kids or they just want to work."
But it wasn't just the flexible schedule he enjoyed, the people at the campus really made his education enjoyable. Sanchez made personal connections with the staff at the school.
"It's really friendly here. People take care of you here. They know you by first name," said Sanchez. "I love the staff. They are all for you. If you're feeling nervous, come here and they will make you feel right at home … this just feels like a second home."
He also found that the professors had real-world experience. They could speak to what it was like outside of the classroom because they had been there and worked there, he said.
"I want to learn from the people who have experience in both fields… in school and the real-world…. You need those people with that real-world experience," said Sanchez.
This was extremely important in his chosen field of human services. Talking to people and helping them through their problems was something he had been doing since a young age. His goal is to work at a community-based human services agency advising kids and teenagers. For Sanchez, it comes down to the saying "be the person you needed when you were younger." His classes have helped prepare him for that, especially because of that real-world experience where the learning goes beyond what is in the books, he said.
Sanchez is currently completing his final classes on his way to his Associate's Degree.
To learn more about taking flexible classes at MWCC, visit https://mwcc.edu/fall.