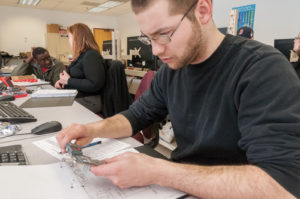 MWCC has announced its latest round of lifelong learning classes, with courses aimed at addressing community needs, workforce development and providing an avenue for curious minds in the region.
MWCC's lifelong learning courses include a wide-array of noncredit courses designed for people continuing their education, exploring new interests or expanding their career options. The spring 2018 course list includes traditional lifelong learning courses covering music, art, photography, software and language. However, there are also classes focusing on professional development, honing job search skills, and exploring new careers.
"Our wide array of lifelong learning options means that there's something for everyone. Whether you are looking to start a hobby, a new career, or just learn different skills there is a class for you," said Interim Vice President of Lifelong Learning at MWCC Rachel Frick Cardelle.
The professional certifications offered include ServSafe, Introduction to Computer-Aided Design (CAD), and Basic Life Support (BLS) CPR for the Healthcare Provider. These classes give people the skills and certification that employers look for when making their hiring decisions.
In addition to adult classes, MWCC has April vacation covered with boredom busters covering ages 5 to 18 year-olds. These classes, which run at various times throughout the week of April vacation, with some lasting all day, will provide entertainment and education to young students.
The full list of classes is available online at mwcc.edu/noncredit. The college's affordable non-credit courses start at as little as $29 for classes that provide a fast-paced one-time lesson.