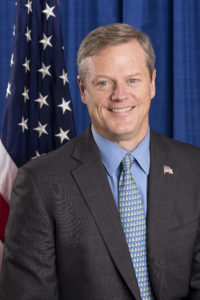 Massachusetts Governor Charlie Baker will deliver the keynote address during Mount Wachusett Community College's Commencement on Wednesday, May 16, 2018.
"We are honored to welcome Governor Charlie Baker to our campus as this year's commencement speaker," said MWCC President James Vander Hooven. "His leadership while serving as our governor, service as cabinet secretary and as CEO of a major health care provider, make him an outstanding choice to address our graduates. His ability to lead in both public and private sectors, while working with a wide variety of individuals and organizations with differing opinions sets the perfect example for our graduates as they prepare to build their careers."
"Our administration remains committed to creating more opportunities for students to enter the workforce with the skills they need and I look forward to joining Mount Wachusett Community College this spring for their commencement," said Governor Charlie Baker. "Among the graduates will be 30 individuals from Pathways Innovation and Gateway schools who will receive MWCC degrees before finishing high school, showcasing the opportunities that exist for early college and dual enrollment here in Massachusetts. Affordable community college and early college programs like our Commonwealth Commitment are top priorities for our administration and I look forward to celebrating with everyone at MWCC this spring."
Governor Charlie Baker was inaugurated as the 72nd Governor of Massachusetts on January 8th, 2015. Prior to serving as Governor, he served as a cabinet secretary to both Governor William Weld and Paul Cellucci, and as CEO of Harvard Pilgrim Health Care, one of the nation's highest ranked health care providers.