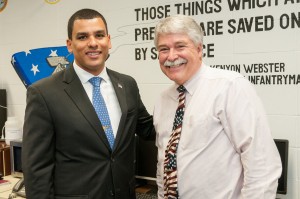 Mount Wachusett Community College welcomed Massachusetts Secretary of Veterans Affairs Francisco A. Urena to its Gardner campus on June 23. The secretary's visit included a meeting with President Daniel M. Asquino, a tour of the college's Center of Excellence for Veteran Student Success with MWCC Veteran Services Director Bob Mayer, and an opportunity to meet with a coalition of state educators who were on campus to discuss services for student veterans.
Secretary Urena, who was appointed to the position by Gov. Charlie Baker in January, said he was impressed with the college's array of support services for veterans, commitment to academic success, and construction and renovation projects underway. He is touring the state's community colleges with Steven R. Sullivan, Director of Grants and Workforce Development for the Massachusetts Community Colleges Executive Office.
MWCC Transfer Counselor Limari Rivera was among the MWCC administrators and staff to greet the secretary. Rivera was Secretary Urena's first academic advisor when he was a student at Northern Essex Community College.
"I knew he was going places the minute I met him," Rivera said.
After earning an associate degree, Secretary Urena went on to earn a bachelor's degree from the University of Massachusetts, Lowell, and is pursuing a master's degree from UMass Boston. Prior to his appointment as secretary, he served three years as Commissioner of Veterans' Services in Boston and five years as director of veterans' services in Lawrence. A recipient of the Purple Heart, he served eight years in the U.S. Marine Corps guarding US embassies in Syria and Kyrgyzstan and was a tank commander during operation Iraqi Freedom.